When outfitting a classroom, educators have many, many options to choose from. The shopping decisions can feel daunting, especially when educators are spread thin serving children and families, recruiting and retaining qualified staff, managing the budget, seeking funding opportunities, and the myriad responsibilities of a childcare business.
Kaplan Early Learning Company has helped customers find the perfect classroom furniture for decades. As the largest family-owned provider of pre-k resources in the industry, Kaplan's team of dedicated product developers have cultivated quality furniture options that meet the rigorous demands of an early childhood classroom. We've seen that only 30 percent of shoppers know exactly what they want when they begin the shopping process. The other 70 percent are looking for simple resources to help them find what they need, and find it fast.
With many great options for furniture both online and in-store, we made the shopping process simple with a checklist that will help you save money, save time, and ensure that the new furnishings meet all the desired learning standards.
4 Tips to Know Before You Buy Classroom Furniture
Before you allocate your funding for the year, it's important for us to identify what ducks we need to have in a row before you begin the process.
Tip 1: Understand Your Classroom Furniture Budget
It might seem obvious, but many educators don't know how to budget for their classroom furniture. We made this top-to-bottom process easier with our 5 Questions to Ask Before Buying Classroom Furniture article . By understanding what factors go into the furniture buying process, you'll be in a better place to make the correct choices for your unique needs.
Tip 2: Audit What Classroom Furniture You Already Have
What type of furniture is already in the classroom? Do you want to add pieces that match the same colors and details as your existing pieces, or are you looking for something different? Do you want a natural, wood aesthetic, or are you moving toward a more modern, white base color palette?
Don't forget to measure your room - how many square feet of floor space is available? Many teachers simply do not know their square-footage, so struggle with ordering too much or too little furniture for the space. Spacing issues can cause challenging behaviors, but working with a vendor representative or digital classroom design tool can help.
Tip 3: Research Your Existing Furniture Vendors
For the many customers adding furniture into an existing collection, gathering information on that furniture manufacturer allows you to know what other vendors can match those specifications. For example, Community Playthings' maple furniture matches the rich, warm tones of the Premium Solid Maple collection from Kaplan.
The more utilitarian blonde birch woods found from vendors including Jonti Craft and Lakeshore Learning match the Carolina Birch plywood collection.
Understanding that so many classrooms carry an assortment of vendor's products, Kaplan has developed furniture that can complement varied wood tones. For example, the unique Sense of Place collection, designed with early childhood leader Dr. Sandra Duncan, has rich birch accents that look beautiful with both the Carolina Birch and Premium Solid Maple collections.
Tip 4: Look for Quality certifications on your classroom furniture
Every furniture manufacturer will say they have the highest-quality products. That's expected in the early childhood industry: products must withstand the wear-and-tear of preschool classrooms, must meet strict safety guidelines, and must last years to justify the expense.
Look for these icons on furniture items:



FSC: The Forest Stewardship Council (FSC) is an international non-profit, multi-stakeholder organization established in 1993 to promote responsible management of the world's forests. The FSC logo signifies that the product comes from responsible sources – environmentally appropriate, socially beneficial, and economically viable.
ASTM: ASTM International is a globally recognized leader in the development and delivery of voluntary consensus standards.
CARB: The California Air Resources Board (CARB) protects the public from the harmful effects of air pollution and develops programs to reverse climate change. CARB has set the standard for effective air and climate programs for the world.
Choosing between Birch, Maple, and Laminate Furniture
Now that you have the basic guidelines for determining furniture quality, we'll walk you through the most popular furniture collections on the market, so you can see which collection meets your needs.
Top of the Line Classroom Furniture: Maple
When customers ask for "the best of the best," and their budget supports that, we show them our Premium Solid Maple collection. This collection matches the aesthetic of the Community Playthings maple furnishings, but has some key differences.
Key buying features for Premium Solid Maple:
The North American solid maple is heavier and therefore sturdier in the classroom.
Each piece of maple furniture has slightly different marbling, which is an outcome of the individual wood grains in the hardwood. This creates an authentic, homelike feel in the classroom.
The corners and edges are rounded and smooth-sanded to make them child-safe.
Metal-to-metal barrel bolt construction enhances the durability.
Satin UV polyurethane finish preserves the rich smoothness of the surface
Storage units are deeper than the industry standard, measuring 15 inches deep.
Ships fully assembled.
Limited lifetime warranty.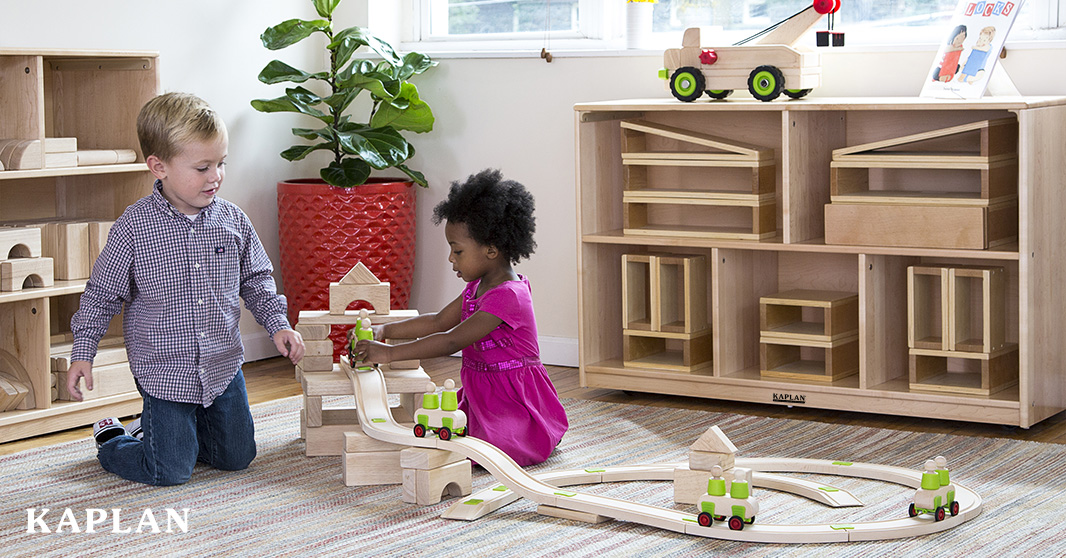 Utilitarian Classroom Furniture: Birch
For customers who want quality and durability, but do not have a large budget, we recommend our best-selling Carolina Birch furniture. With its lighter weight and color, it is a favorite for customers who want the quality of wood, at a lower price. This furniture line is most often compared with the Lakeshore Learning Classic Birch, with differences in the size and construction.
Key buying features for Carolina Birch:
Rounded, smooth-sanded child-safe corners and edges
Easy to clean, UV protective finish helps prevent scratches and stains
Storage units are 15 inches deep, providing more storage space than competitors
Most items ship fully assembled
Limited lifetime warranty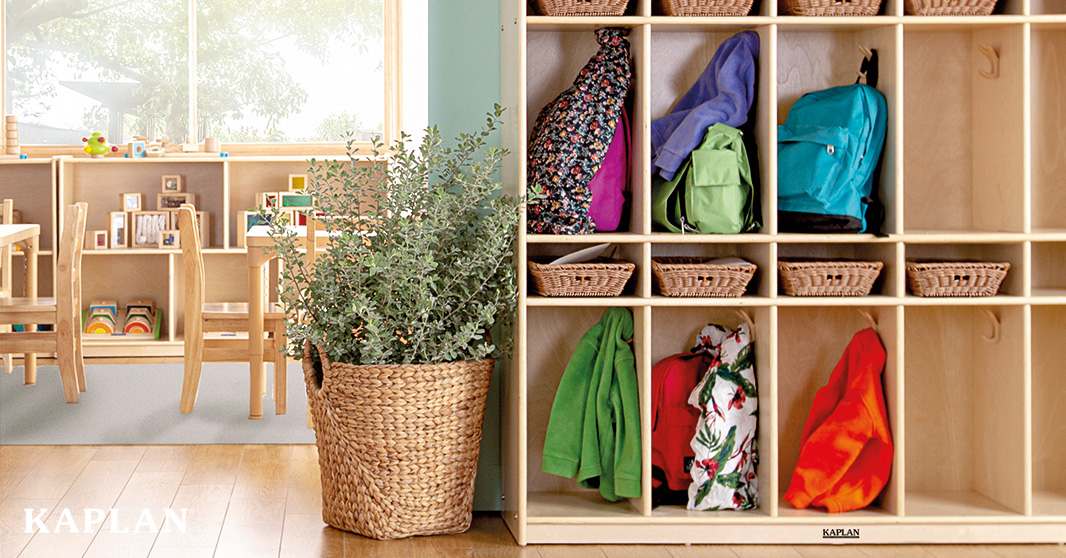 Nature-Inspired Classroom Furniture: Sense of Place
The trend of nature-based preschools, outdoor preschools, and so-called "forest schools" is moving into the traditional classroom space, as more educators respond to evidence that being in, and learning from, the natural world deepens learning and has a therapeutic effect on children. As a result, educators are increasingly asking for nature-inspired classroom materials, which bring calming colors, soft lines and multi-sensory experiences that can help educators manage challenging classroom behaviors.
Kaplan partnered with world-renowned early childhood author Dr. Sandra Duncan to design furniture collections that meet this growing need. Our Sense of Place preschool furniture collection is meant to inspire children's wonder and to nurture their growth and development.
For younger children, The Sense of Place toddler collection, Sense of Place for Wee Ones, builds off of the preschool line's success, and incorporates movements that support the axioms of play and a 360-degree design, inviting children to play with the furniture from all sides.
Both Sense of Place furniture collections are made of white-laminated plywood and solid birch accents. With unique pieces such as the stunning fireplace, farmhouse table, hideaway cove, and curio cabinet, the collection supports Dr. Duncan's assertion that a classroom should be nature-aligned, heart-centered, sensory-based and authentically inspired.
Key buying features for Sense of Place:
Wood furniture pieces made of white-laminated plywood to support environmental sustainability and easy care and cleaning.
Solid birch accents add warmth and natural textures that also match existing birch and maple furniture
Accessories include natural materials such as rattan, water hyacinth, and palm leaf offer more sensory opportunities
Kitchen includes real metal faucet, which adds authenticity to the play experiences
Comfy modern couch and chairs made from easy-to-clean PU vinyl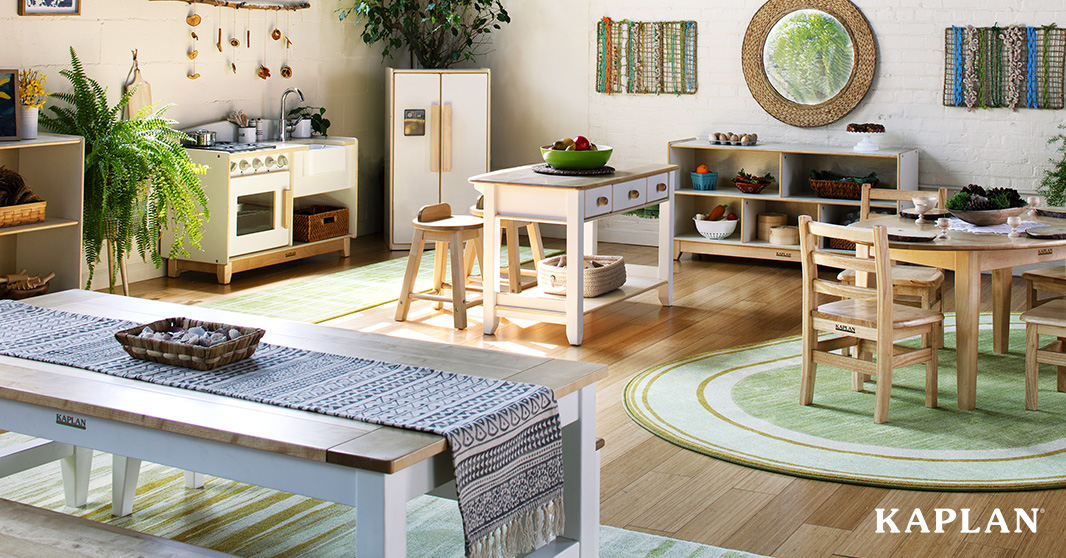 Many of our customers have worked in the education ecosystem for years, and have seen trends come and go, as well as the long-term impact of making the wrong choices for initial build-outs. Maybe you're reading this article while staring over a computer into a room full of broken or mismatched furniture. Maybe your students' needs aren't being met and you're enduring the daily struggle of disconnected learners. Maybe you've got a blueprint under your coffee cup right now and you have no idea how you're going to outfit this new center to best meet the needs and standards of the community you serve.
Regardless of where you've been and where you are, understanding the materials, scope and development of the products you choose is an integral part of ensuring your long term success. If you want professional guidance, we are always available to help. Contact a Kaplan representative today for a discussion about your needs.