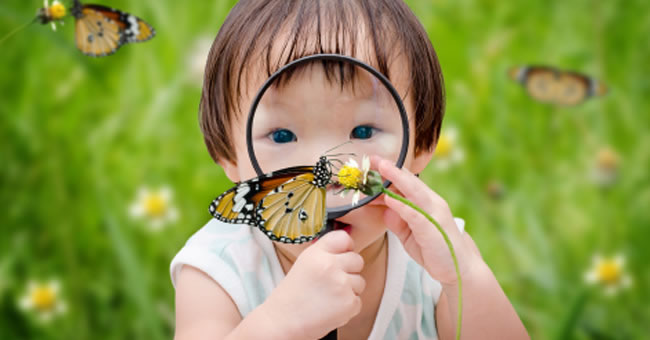 Using sight, sound, touch, taste, and smell to investigate the world around them fills children with wonder and excitement as they learn new things, which is why exploring science at an early age is so important. "Scientific thinking enables children to gain an understanding of the world in which they live. Encourage them to ask questions and use simple tools as they make comparisons," states Beth R. Davis, EdS, NBCT, in her book Hands-On Science and Math. She also shares the following practical tips for science exploration:
Stick with concepts that are basic and not too abstract. Remember, you're working with preschoolers! It is okay to challenge them a little, but don't explore concepts that are so difficult children can't even learn a few small things.
Have children work in small groups when conducting experiments. Working in small groups helps them gain social skills while also giving them opportunities to learn from one another and work together to solve a problem or complete an experiment.
Incorporate science inquiry into your daily routines. Discussing the weather and/or seasonal changes and providing opportunities for children to play and learn in your classroom's science learning center are two ways you can incorporate science into your daily routines.
Stock your science learning center with a variety of materials to help children observe and explore. Here are a few ideas for materials to include in your classroom's science center:

Microscopes
Hand lenses
Rock and shell samples
Sensory bottles and tables
Magnets
Real and plastic insects
X-rays
Variety of items to sort

Include books about science in your classroom library. Children will love reading books about weather, life cycles, plants, the human body, the solar system, and other science topics.
Create a garden with plants for preschoolers to water, observe, and harvest. Having your very own school or classroom garden provides wonderful learning opportunities. Children can plant seeds, water the plants, make observations about the plants, and pick and eat the fruits and vegetables when plants are grown.
Practice safety when conducting experiments, doing a lab, or exploring nature. Here are a few examples of safety rules and requirements for children to participate in science experiments:

Children should know to listen and follow all instructions carefully.
Encourage them to ask questions if they are uncertain of what they need to be doing.
When coming to the lab table, all of the children's hands should go under the table until you give them instructions otherwise.
Make sure children are correctly wearing the proper safety equipment (e.g., goggles, apron, etc.).
Browse the Science and Health section of our website for additional materials and resources. "How to Set Up Your Preschool Nature and Science Learning Center" is also a great resource for educators. Be sure to check out our Hands-On Science and Math Kit for the necessary materials needed to perform experiments and provide children with hands-on learning experiences in your classroom.