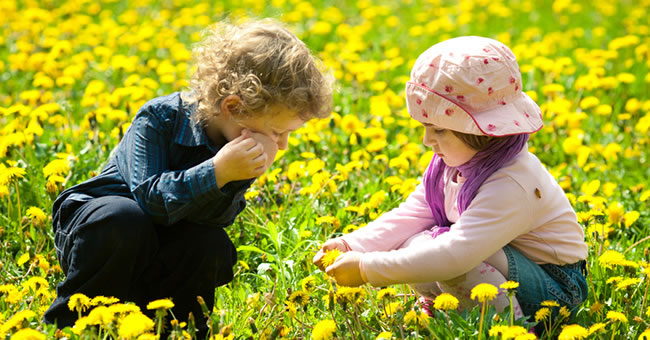 Spring brings a variety of exciting learning opportunities for children, especially in regards to science. From helping children learn about plants to discussing changes in weather and climate, there are a number of ways you can use spring-themed lesson plans to explore science with the children in your care.
Weather and Climate
As the muted colors of winter change into the bright colors of spring, the weather also changes. Climate, temperature, precipitation, pollen levels, wind, humidity, thunderstorms, and tornadoes are just a few of the weather topics and concepts you can include in your spring-themed lesson plans:
Have children track each day's high and low temperature, amount and type of precipitation, and other weather-related data for a few weeks. They can then compare and contrast their findings with the average temperatures and precipitation the region you live in usually sees during the spring months.
Discuss thunderstorms and why funnel clouds sometimes occur. Explain the difference between a tornado watch and a tornado warning, and remind students of what they're supposed to do if a tornado or severe weather strikes.
Explore why pollen occurs, how people react to it, and why bees love it.
Life Science
With trees budding, flowers blooming, and a variety of birds and insects reappearing, spring provides a variety of opportunities to explore different components of life science:
Take a walk outside with your students and point out the various plants and trees you see along the way. Ask children to describe what they see–this gives children the opportunity to make a variety of observations. Gardening can also give children learning experiences with life science concepts.
Flies, bees, ladybugs, butterflies, and ants are just a few of the insects children may spot in spring. Try capturing a bug with a bug viewer to help children see the bug up close. You could also have children draw or make a lifelike model of a bug as you teach children about different insects.
As children learn more about insects, plants, and trees, you can also teach them about the life cycle of an ant, oak tree, etc. with educational puzzles, games, and books.
Energy, Light, and Sound
Spring is the perfect time of year to teach children about energy, light, and sound:
Take your students outside at different times of the day to show them how shadows change in size and shape due to changes in light.
Spring days are often sunny and breezy. This is a great opportunity to teach children how wind and the light from the sun can be converted to energy for people to use.
Spring brings the buzz of bees, chirps of birds, and other fascinating nature sounds. Discuss the nature sounds children are hearing, and then have students try to recreate those sounds in the classroom.
Any activity or discussion that encourages children to hypothesize and investigate why something occurs would also make a great addition to your spring-themed lesson plans. Be sure to browse our Science and Health section for a variety of materials and resources you can use to explore science with your students.