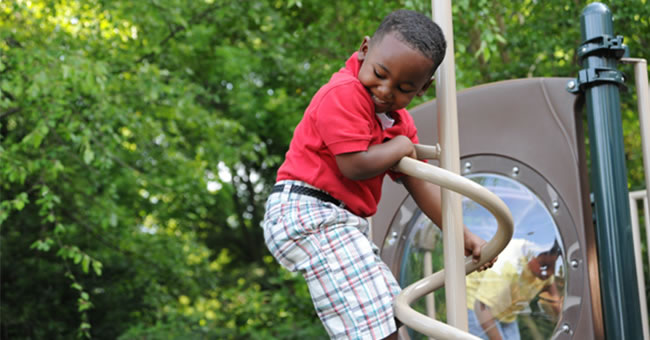 Once you've ordered your playground equipment, surfacing materials, and site amenities, the next steps are site preparation, delivery, and installation. Contracting with Kaplan Playgrounds can help make the delivery and installation processes go smoothly. Here are a few tips and reminders for current and potential Kaplan Playground customers to keep in mind before and/or after placing an order:
Site Preparation
Be sure to remove any old equipment.
Prior to the installation, all utilities (underground power lines, water lines, gas lines, etc.) should be marked to show the exact location. All states have a Dig Alert type system that can be contacted, and utilities will be marked at no cost. Depending on your location, the property owner or contractor doing the work will have to call for this service.
Make sure the site has positive slope and drainage away from your building. This will allow water to drain off the playground area.
If the equipment is not going to be installed on the day of delivery, go ahead and make plans for where the equipment will be stored until installation.
Delivery
Kaplan cannot guarantee any delivery or installation date. We always strive to meet your scheduling needs, but due to factors beyond our control, this is not always possible. Variables such as manufacturing delays, transit times, or weather can cause unavoidable delays.
Lead times can vary from 4 to 8 weeks or longer depending on the time of year.
Be sure to provide contact information if you would like to be contacted before delivery.
You should receive a Bill of Lading (receipt for items received) with each delivery. Check all items for damages and shortages before signing your delivery receipt, and make note of them on the Bill of Lading. Be sure to keep a copy for yourself and one for the driver.
In order for Kaplan to file a claim for damages or shortages, it is important that Kaplan be contacted within 48 hours of receipt of materials. Kaplan is not responsible for any damages or shortages that are not reported in that time frame.
Structures are bulky and heavy and may require equipment to remove the items from the truck. You may need a forklift, a bobcat, or a similar piece of equipment. You will be responsible for all offloading of equipment. Liftgate service may be requested, but some crates and boxes are too large to use with liftgate service, which means other equipment will be necessary to unload the truck. Liftgate service costs vary per carrier, and if liftgate service is used, it will only get the items off the truck and not to your storage or playground area.
While some drivers are very accommodating and helpful, they are not required to assist in the unloading of materials.
Installation
Installation dates and length of installation are not guaranteed and can be greatly impacted by time of year and weather conditions.
Customer will be responsible for security during the installation. Kaplan is not liable for vandalism or theft. Security can be purchased through Kaplan or contracted directly by the customer if necessary.
Unless disposal is purchased, all trash and debris will be consolidated and stacked on-site for disposal by the customer.
If you are adding surfacing to your playground site, it is usually the last part of the installation process.
Customer will be responsible for maintaining the playground. This should include periodic inspections for loose or missing hardware, surface rust, worn parts, and raking/replenishment of loose-fill surfacing.