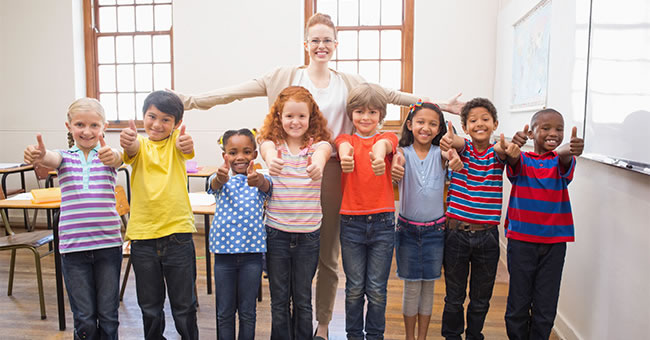 The beginning of the school year is always a stressful and hectic time for both teachers and students, but it's important that you focus on connecting with the new students in your care. Making connections with students at the beginning of the school year can help you develop a positive and productive learning environment, establish positive relationships with your students, and develop trust and respect in the classroom. Here are a few ways you can connect with the students in your class at the beginning of the school year:
Come Up with Fun Icebreakers – Most students will be nervous about having a new teacher, new classmates, and a new classroom/school. Coming up with fun icebreakers can help everyone relax and get to know one another. Some fun icebreakers to consider would be name games, fun art projects (e.g., a collage of what students did over the summer or a collage about themselves), and a scavenger hunt around the classroom/school.
Talk About Yourself – Talking about your family, hobbies, favorite things, etc. can help students get to know you. Telling students about yourself will help them feel more comfortable with you and the learning environment.
Ask Students Questions – Asking students a variety of questions will help you get to know them and help them get to know one another. Conversation Cubes have a number of fun questions children can answer, such as "Do you have a pet?" and "Where would you like to travel?". You can also write questions on a beach ball or other item for children to answer. Be sure to answer some of the questions yourself!
Spend Time with Each Student – Over the course of the first couple weeks of school, make it a point to spend time individually with each student. You can schedule a time to talk with each student, or you can randomly choose a student to talk with during different activities. This may be the best option, especially if you choose to play and work alongside students.
Play and Work Alongside Students – If you want to connect with students, it's important that you get out from behind the teacher's desk. From playing board games with students to completing a worksheet alongside them, you show students that you can relate to them and that you're willing to work alongside them to help them learn and grow.
Be sure to browse the School Readiness category in our Insights and Inspirations section for more articles about preparing for the start of the school year.