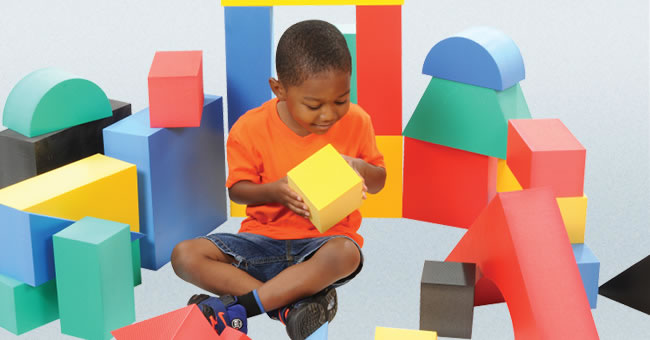 You likely have a variety of blocks in your classroom, but are you really utilizing them as a focal point for children's learning? With proper instruction, children's engagement with blocks can promote math, science, engineering, early literacy/language arts, gross and fine motor development, social and emotional learning, and much more. However, even though blocks are popular in the classroom, they're often underappreciated and underused. Here are a few ways you can work on making blocks a bigger part of your learning environment:
Make sure you have enough blocks. Keith Pentz, National Early Childhood Specialist for Kaplan Early Learning Company, suggests that teachers follow researcher and educator Pam Phelps suggestion of 35 blocks per toddler and 100 blocks per preschooler participating in the learning center. A minimum of 10-20 of each type of block (as provided in the ECERS-3 and ECERS-R) is another great guideline to use.
Provide a variety of supporting materials. To ensure you're using blocks effectively, you need to make sure you understand the difference between a block and manipulative. Many teachers think something is considered a block, when it's actually a manipulative or supporting material. For example, LEGO® and DUPLO® materials, play vehicles, play signs, interlocking logs/shapes, and other building materials would all be considered supplemental items that enhance block play.
Give children room to make grand structures. The block learning center is one of the most visited interest areas in the classroom, so it needs to be large enough to accommodate a larger group of students. There should also be plenty of room for children to spread out and build grand towers, castles, and other structures.
Help children feel more comfortable. If you don't encourage block play, children may be reluctant to participate in the block learning center because they don't know what to do or what is expected of them. Having a rigid schedule or manner in which children are allowed to play with blocks or use the block center can also make them feel uncomfortable participating in block play. Try to encourage block play as much as possible and let children have open-ended opportunities to play and experiment with block structures in the learning center.
Take some blocks outside! Put a fun twist in block play by taking some of your classroom blocks and supplemental materials outside for children to play with. Keep in mind that there are plenty of blocks specifically created to be used outdoors if you would prefer to not take your classroom blocks outside.
By making blocks and block play a more focal point for learning in your classroom, you're giving children more opportunities to apply ideas and information, follow through with their plans, participate in trial and error, socialize, learn vocabulary, and much more. Be sure to visit the Block Play section of our website to view all of the blocks and supplemental materials we have available.