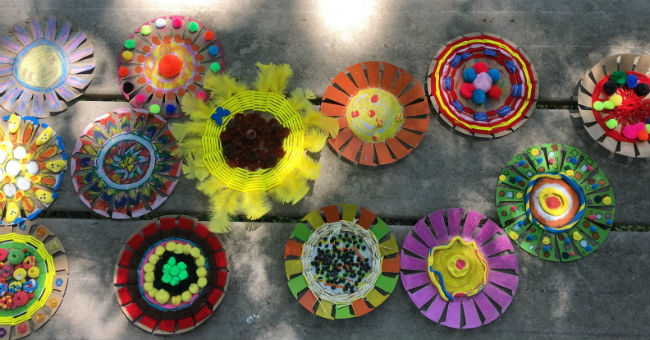 Have a lot of leftover craft supplies? Clean out your art cabinet by giving children open-ended opportunities to create works of art. Collages are a great way to give children creative freedom while also using up leftover craft supplies. Basket Making Forms make a great base for children to use when creating art collages since they can be used to make baskets or used to flat to make a more traditional collage piece. Paper plates, cereal boxes, paper towel rolls, scrap fabric, and newspaper also work well as the base for open-ended art projects.
In the activity video below, we show how you can make a sunflower collage with the Basket Making Forms and a few leftover art supplies. Ask children to use the provided supplies to make a sunflower (or flower in general). To make it a truly open-ended art experience, don't show children an example of one you've made. Let them come up with their own unique take on how to make a sunflower with the supplies they're provided.
Download our FREE printable below!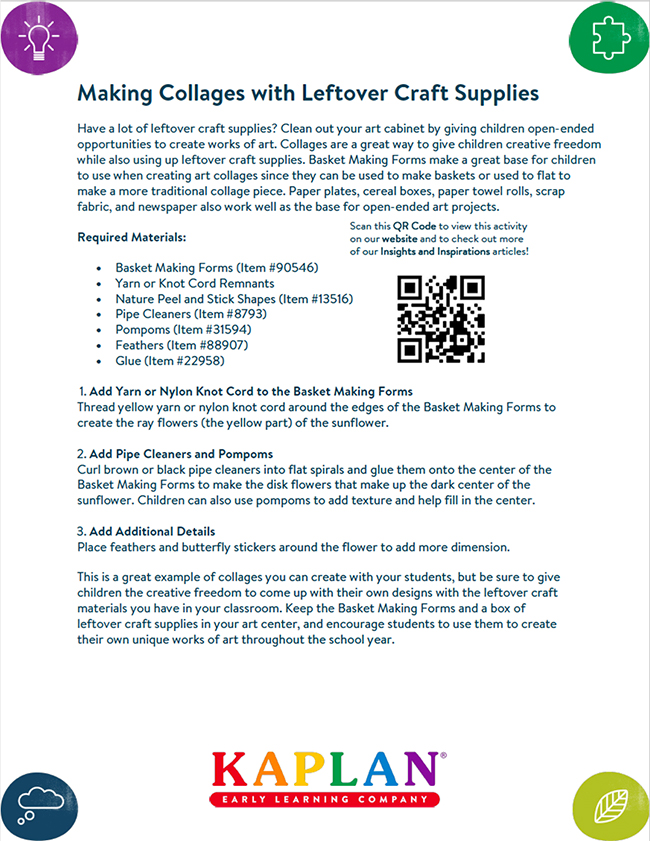 Required Materials:
1
Add Yarn or Nylon Knot Cord to the Basket Making Forms
Thread yellow yarn or nylon knot cord around the edges of the Basket Making Forms to create the ray flowers (the yellow part) of the sunflower.
2
Add Pipe Cleaners and Pompoms
Curl brown or black pipe cleaners into flat spirals and glue them onto the center of the Basket Making Forms to make the disk flowers that make up the dark center of the sunflower. Children can also use pompoms to add texture and help fill in the center.
3
Add Additional Details
Place feathers and butterfly stickers around the flower to add more dimension.
This is a great example of collages you can create with your students, but be sure to give children the creative freedom to come up with their own designs with the leftover craft materials you have in your classroom. Keep the Basket Making Forms and a box of leftover craft supplies in your art center, and encourage students to use them to create their own unique works of art throughout the school year.