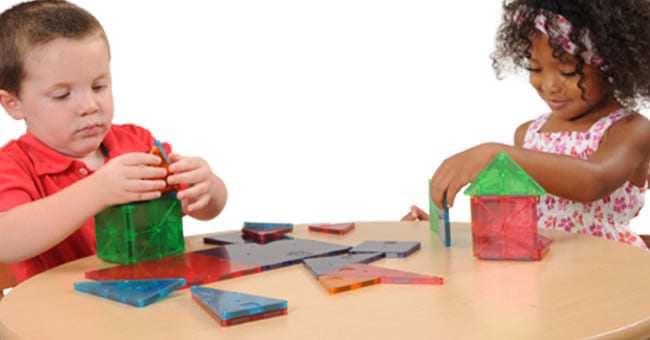 A classroom favorite of both students and teachers, Magna-Tiles® serve as a great learning tool for children three years and up. The versatile magnetic tiles engage children in creative play and help them learn and practice a variety of skills and concepts. Whether you already have a set of Magna-Tiles® in your classroom or not, these tips on the various ways Magna-Tiles® can be used in the classroom will have you and your students wanting several sets!
Name Those Shapes

Having children identify shapes is just one way you can use Magna-Tiles® to teach children math concepts. From sorting and counting to angles and geometry, children of all ages can learn the math skills they need while creating fun Magna-Tiles® creations.

Explore Science Concepts

Magna-Tiles® are a lot harder to knock over than traditional building blocks thanks to each tile having magnets on all sides. Children can start learning about magnetic principles, gravity, and other science concepts as soon as the tiles come out of the box.

Build 3-D Structures

Children will also learn basic engineering skills as they use Magna-Tiles® to build a variety of simple and complex 3-D structures.

Encourage Creativity

Whether they're building a house or their own unique design, children can use Magna-Tiles® to create a variety of structures and designs. You can also ask children to come up with fun stories about the structures they're building to help them practice their literacy skills.

Develop Fine Motor Skills

Magna-Tiles® also serve as a great manipulative for children, because they can have fun building structures as they develop the fine motor skills they need.

Learn Self-Control

Everyone won't be able to play with Magna-Tiles® at the same time, so use Magna-Tiles® as a way to help children learn self-control as they practice waiting their turn and sharing with classmates.

Teach Critical Thinking

Learning how to build a variety of Magna-Tiles® creations will help children develop critical thinking and problem-solving skills.

Reward Students

Playing with Magna-Tiles® is a fun activity for many children, so you can also use them as a reward for good behavior or a job well done.