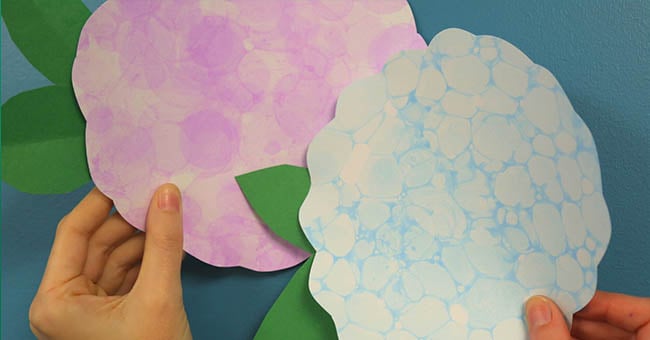 What better way to celebrate spring than by making your own flowers! Bright, easy, and fun, Bubble Art Hydrangeas are the perfect way to bring beautiful spring blossoms into your home or classroom. Children will love exploring the wonders of spring and learning more about this season of growth and renewal as they create unique works of bubble art! Blowing bubbles, expressing creativity, and making a one-of-a-kind bouquet for friends or family—what more could you want from an arts and crafts activity!
Download our FREE printable below!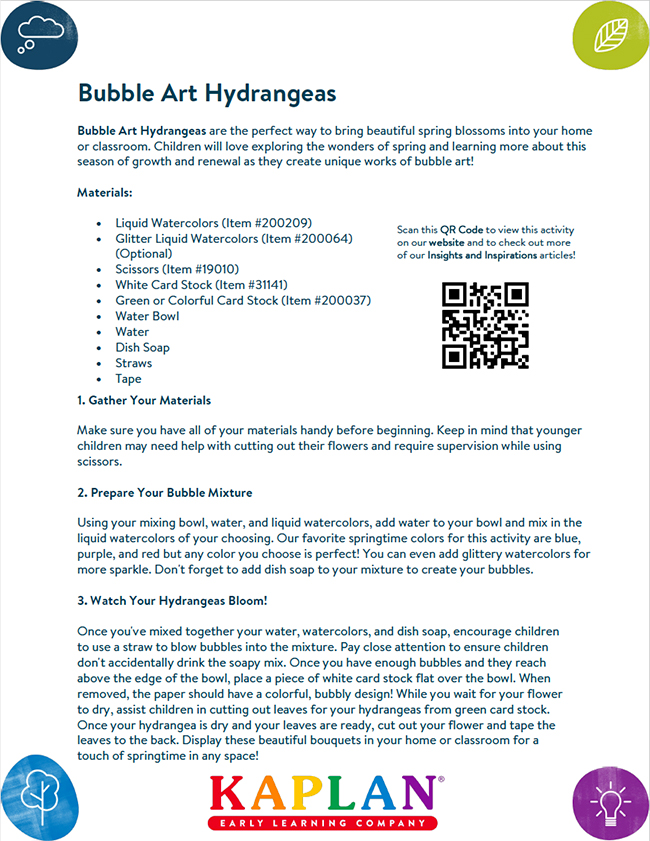 Materials:
1
Gather Your Materials
Make sure you have all of your materials handy before beginning. Keep in mind that younger children may need help with cutting out their flowers and require supervision while using scissors.
2
Prepare Your Bubble Mixture
Using your mixing bowl, water, and liquid watercolors, add water to your bowl and mix in the liquid watercolors of your choosing. Our favorite springtime colors for this activity are blue, purple, and red but any color you choose is perfect! You can even add glittery watercolors for more sparkle. Don't forget to add dish soap to your mixture to create your bubbles.
3
Watch Your Hydrangeas Bloom!
Once you've mixed together your water, watercolors, and dish soap, encourage children to use a straw to blow bubbles into the mixture. Pay close attention to ensure children don't accidentally drink the soapy mix. Once you have enough bubbles and they reach above the edge of the bowl, place a piece of white card stock flat over the bowl. When removed, the paper should have a colorful, bubbly design! While you wait for your flower to dry, assist children in cutting out leaves for your hydrangeas from green card stock. Once your hydrangea is dry and your leaves are ready, cut out your flower and tape the leaves to the back. Display these beautiful bouquets in your home or classroom for a touch of springtime in any space!
Greet the arrival of spring with this fun arts and crafts activity! Browse our selection of related seasonal resources and start planning creative activities for your classroom.