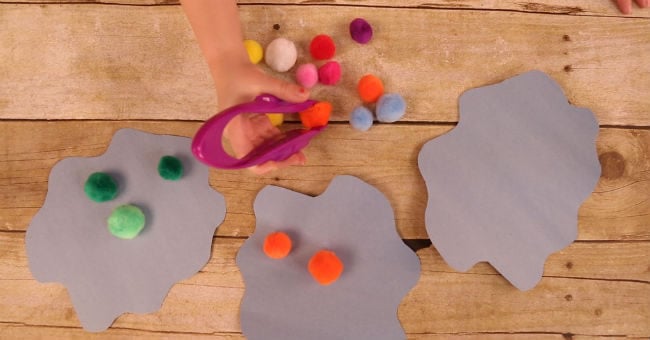 Every year on March 2, children, parents, and teachers across the nation celebrate Read Across America Day. This annual holiday celebrates the birthday of one of the world's favorite children's book author, Dr. Seuss. Read Across America Day is an amazing opportunity for students to gather together and read fantastic stories, encouraging literacy and community building.
In honor of Dr. Seuss' literary legacy, consider incorporating these fun, simple activities into the classroom to encourage fine motor skill development, counting, matching, writing, and letter identification.
Green Eggs Match-Up
This exciting matching game celebrates the Dr. Seuss classic, Green Eggs and Ham. Children can match the egg halves, identify and count the numbers, and develop fine motor skills by pulling apart and reconnecting the eggs. Counting and matching have never been so fun!
Fish Sorting
The timeless counting and rhyming book One Fish Two Fish Red Fish Blue Fish comes to life with this fish sorting game. Cut out paper "pond" shapes for students to place pompom "fish" into each pond using Easy-Grip Tweezers. This easy to make, no mess activity encourages fine motor development, sorting skills, and color recognition.
ABCs In Cream
For a fun-filled ABCs themed activity, have children draw and write letters, words, and shapes in the creamy canvas. This is a fantastic activity is wonderful for encouraging pre-writing skills and alphabet awareness in children.
Download our FREE printable below!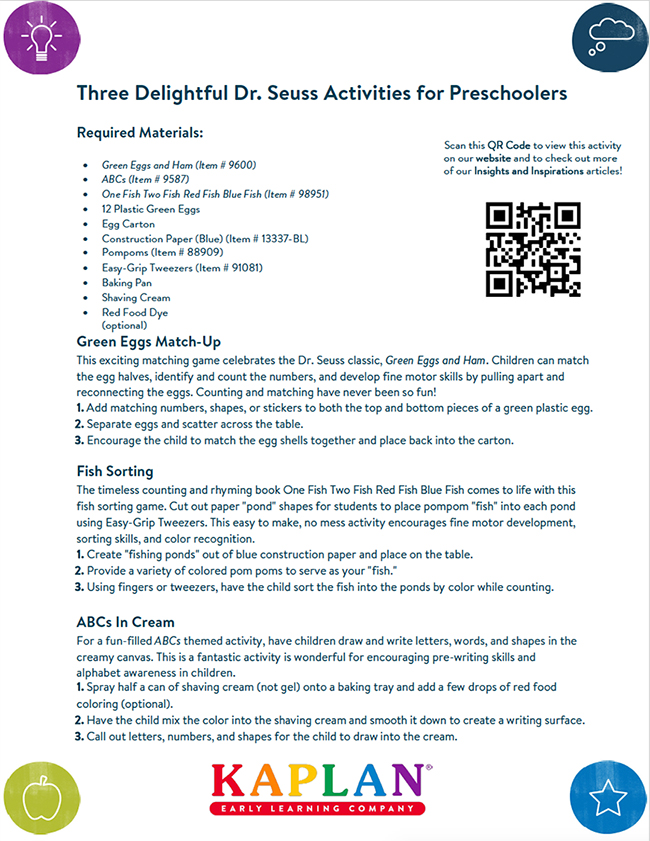 Required Materials:
12 Plastic Green Eggs
Egg Carton
Shaving Cream
Red Food Dye (optional)
1
Green Eggs Match-Up
Add matching numbers, shapes, or stickers to both the top and bottom pieces of a green plastic egg. Separate eggs and scatter across the table. Encourage the child to match the egg shells together and place back into the carton.
2
Fish Sorting
Create "fishing ponds" out of blue construction paper and place on the table. Provide a variety of colored pom poms to serve as your "fish." Using fingers or tweezers, have the child sort the fish into the ponds by color while counting.
3
ABCs in Cream
Spray half a can of shaving cream (not gel) onto a baking tray and add a few drops of red food coloring (optional). Have the child mix the color into the shaving cream and smooth it down to create a writing surface. Call out letters, numbers, and shapes for the child to draw into the cream.
Include these three delightful Dr. Seuss activities in your classroom to provide creative opportunities for Seusstastic fun on Dr. Seuss Day or throughout the year!
Be sure to browse our list of language and literacy materials, resources, and professional development.