For many early childhood educators and parents, their first introduction to Kaplan Early Learning Company happens in the classroom.

They see the Kaplan logo on a bookshelf when they grab a book for storytime. They see that same logo on the classroom cubby where they place their child's belongings at the start of every day. While we may be a familiar name in the classroom, we are much more than a supplier of shelving units, tables, and chairs.

Kaplan has been at the forefront of early childhood education for over half a century, inspiring a lifelong love of learning in children through our research-based curricula, innovative learning solutions, and enriching classroom environments. We partner with early childhood experts and manufacturers to deliver high-quality products and resources that support developmental theory and nurture positive play experiences for young children.

This article highlights the various ways Kaplan supports early childhood professionals as they nurture child development inside and outside of the classroom.
When and how did Kaplan Early Learning Company begin?
In 1951, Leon and Renee Kaplan opened their first toy store in downtown Greensboro, NC. They eventually moved their store, Tiny Town, to Winston-Salem, NC, where they continued to provide toys and gifts that help children learn through play. Leon founded Kaplan School Supply in 1968, later becoming Kaplan Early Learning Company. His vision was to create a company that provides developmentally appropriate resources to foster cognitive, social, emotional, and physical growth in all children. To this day, we continue to help children learn through play.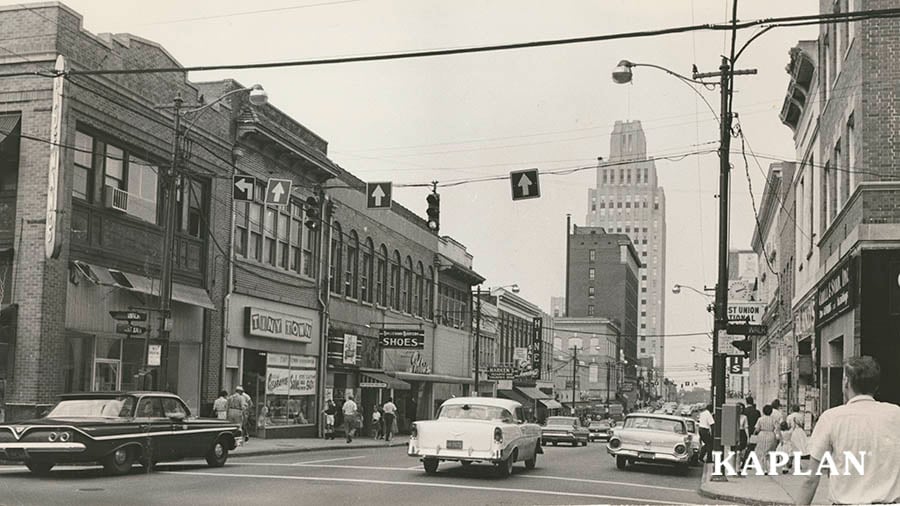 What makes Kaplan Early Learning Company a leader in early childhood education?
Our passion is helping early childhood professionals establish learning environments and classroom experiences that nurture the growth and development of young children. Here are a few of the ways we do that:
We create products based on developmental research and educational best practices.
Play encourages children to think critically, socialize with others, and enhance their motor skills – among other things. At Kaplan, we take play seriously. This is why we partner with early childhood experts to develop and bring to market innovative technology solutions, enriching toys, and developmentally appropriate classroom materials that engage and educate children the way they learn best.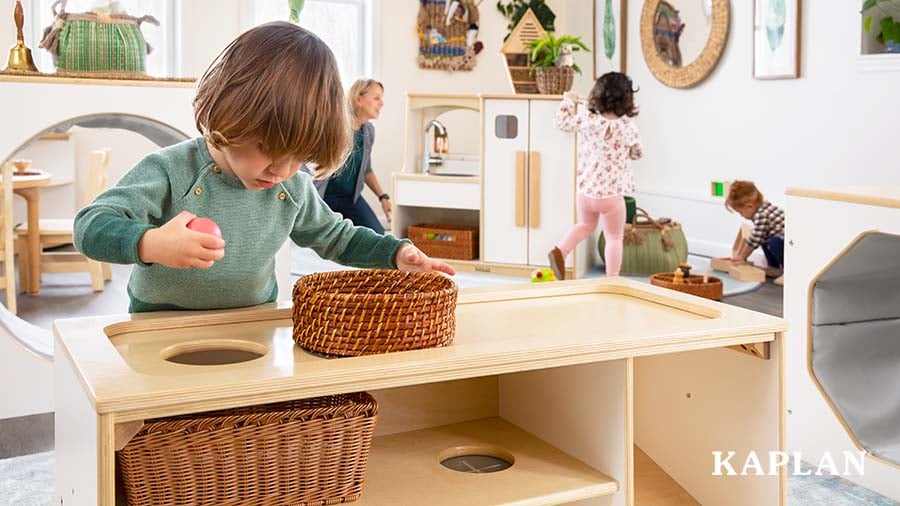 We encourage nature exploration and outdoor play.
Children need access to outdoor learning environments where they can explore, play, and learn about the world around them. Our nature-inspired learning toys and age-appropriate playground equipment facilitate nature exploration and encourage cooperative outdoor play. You can build your playground effortlessly with the help of a Kaplan representative and our streamlined design, site evaluation, consultation, and complete playground installation services.
We offer supplemental and comprehensive curricula that promote cognitive, physical, and social-emotional development.
Children are eager and ready to learn. However, not all early childhood programs deliver the same educational experiences to help children grow and meet core learning expectations. That's why Kaplan offers a wide catalog of screeners, assessments, and curriculum products. Using scientific research, we develop comprehensive curricula that combine theory and educational best practices in early childhood education.

We also offer implementation training to support educators as they use these products in their classrooms. In addition to our array of best-selling comprehensive curricula, we offer supplemental curriculum products that focus on specific interventions or developmental needs.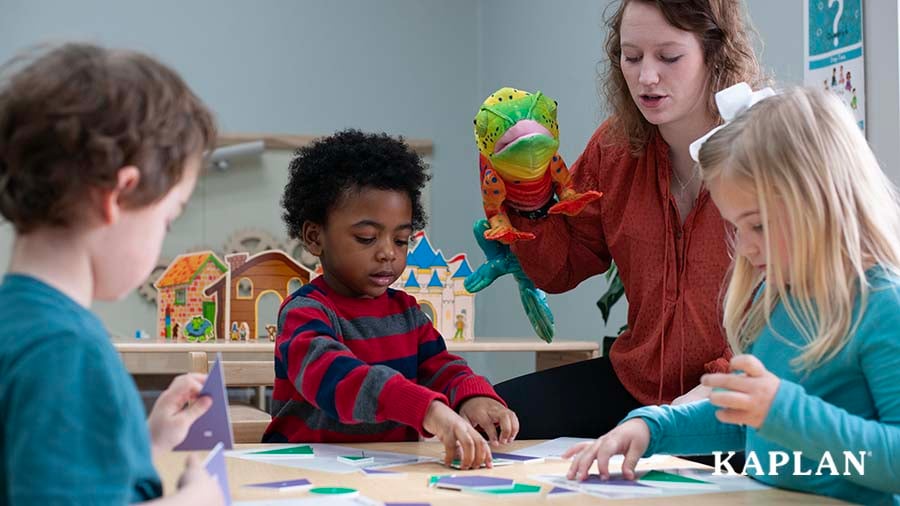 We help early childhood professionals expand their knowledge.
Many early childhood educators need help finding cost-effective, high-quality professional development solutions that address their top classroom concerns. Our professional development team can introduce you to on-site and virtual learning opportunities that promote teacher growth and improve learning outcomes. We also work closely with early childhood experts who provide resource books and free webinars on topics that make a positive impact on the education of young children today.
We partner with early childhood experts to provide free resources and inspirational insights.
Searching the internet for information relevant to early childhood education is a daunting task. Not to mention, now that anyone can publish content online, there is no way to ensure that the content you consume is developmentally appropriate or accurate. Curated by early childhood experts and backed by research, our Learning Center features articles, videos, and activities to help you foster child development, inspire creativity, and become a champion of play.
We develop tools to help with classroom design and organization.
A properly designed and organized classroom dramatically enhances the educational experiences and well-being of young children. To get the most out of your learning spaces, you can use the myKaplan FloorPlanner to design, visualize, and order appropriate-sized furnishings for your classroom. Use the Kaplan Label Maker to create customized labels for your classroom storage bins and activities.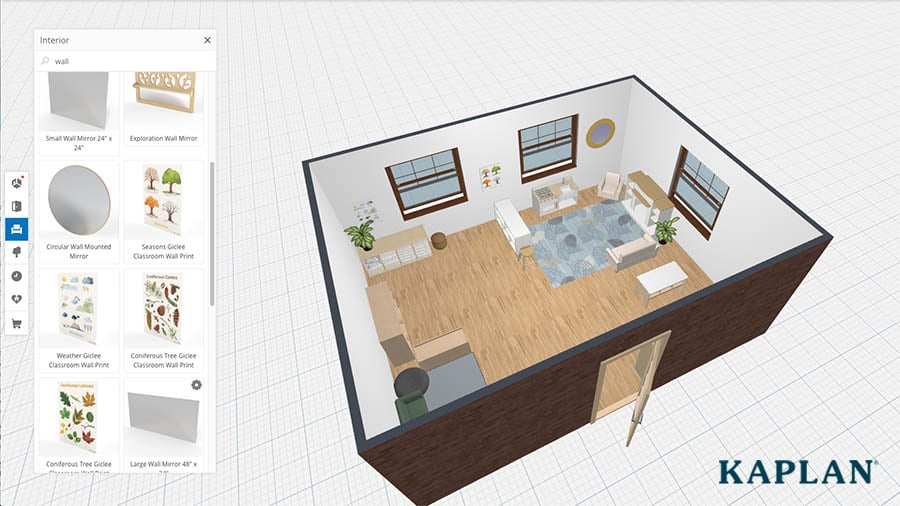 We offer superior support for new center builds, classroom renovations, playground installations, and more.
Whether you need to build an early childhood center from the ground up or replace all your classroom materials, shopping, ordering, and installing educational supplies can be overwhelming. Kaplan can take this weight off your shoulders! Our Educational Representatives, located throughout the United States, can help you select furnishings and materials that fit your space and meet your state guidelines and learning achievement goals.

After placing a qualified Kaplan Delivery Services order, our K-Truck delivery service team will ship your items to your desired location. You can customize your delivery to include installation and setup of your items. This will make it easier for you to replenish your learning spaces and get back to nurturing young minds.
We make shopping for educational toys and classroom supplies effortless.
When it is time to order supplies for your early childhood center, you need the process to be convenient, organized, and efficient. By signing up for a myKaplan account, you can shop our full line of products, view past orders, and track your shipments. If something goes wrong during the ordering or shipping process, check out our Self-Service tools to find a solution that fits your needs.
Kaplan is here to support you.
We value everything you do for young children, their families, and your local community. You can visit our website to browse our educational supplies, technology solutions, and curriculum options.

Together, we can instill a lifelong love of learning in young children. Subscribe to the Kaplan Learning Center and receive instant, weekly, or monthly email alerts featuring resources to help you nurture positive play and promote age-appropriate development.