Outdoor play is important for all children because of the developmental, physical, social, and mental benefits of spending time in nature. This is one of the reasons state mandates regarding outdoor playtime exist. However, just because a child is outside does not mean they have the same experiences as everyone else.

Imagine this scenario happening during outdoor playtime…

A group of children are playing on a large playset with multiple play levels and slides, climbing bars, etc. To access the upper areas of the playset, the children need to climb up a series of platforms or the attached rock wall. There is just one problem – one of the children uses a wheelchair for mobility. With no way to access the upper portions of the playset, this child is stuck on the ground.

In a situation like this, that child may feel isolated from the fun and experiences the other children are having on the playground.

As important as nature and the outdoors is to child development, children also need to feel like they belong. According to the book, Naturally Inclusive: Engaging Children of All Abilities Outdoors, "inclusive and accessible outdoor environments create a sense of belonging by overcoming physical, social, and emotional barriers that children with special needs often face."

At Kaplan, we've spent over 50 years designing playground equipment that facilitates learning and play for children of all capabilities. In this article, you will learn what makes a playground inclusive and accessible, a few things to consider when you are adapting your existing playground space, and different types of playground equipment that facilitate inclusive play and positive social interactions.
What Is an Inclusive and Accessible Playground?
Every interaction on the playground offers a chance for children to learn, grow, and strengthen their social and emotional bonds. An inclusive and accessible playground provides natural play spaces and outdoor equipment that enhance these opportunities and foster a sense of belonging for all children.

The intention of inclusive and accessible outdoor spaces is not to create areas that are designed only for children with special needs. This type of separation adds to the solitary feeling children may experience while on the playground. For example, positioning an accessible swingset at one end of your playground, while a "typical" swingset is at the other.

If you were to combine the two types of swingsets in one area, you open up endless opportunities for inclusive play.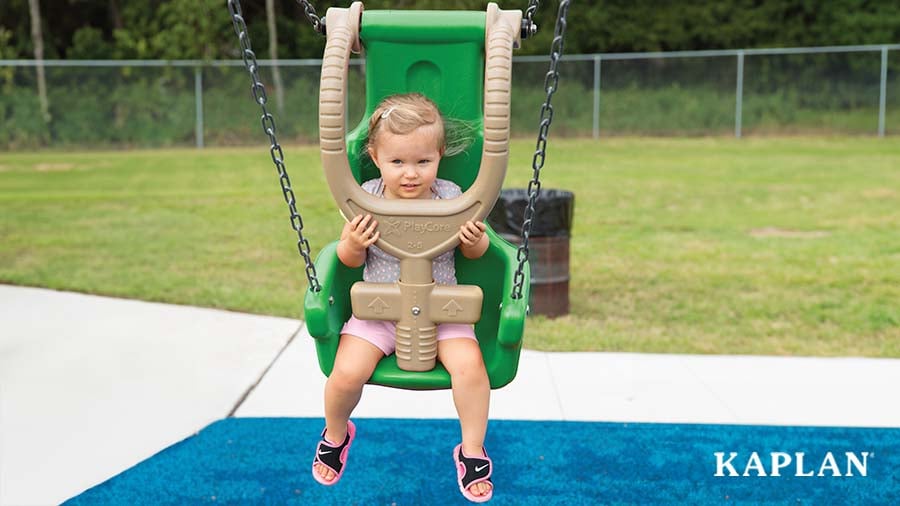 How Do I Ensure My Playground Is Inclusive and Accessible for All Children?
The first thing to consider is the space you have available. You want to create well-defined play spaces as well as open areas for children to interact with each other and nature. Some of the different play spaces you can create on your playground are:
Natural areas where children can explore nature and feel its calming presence


Accommodating structures that provide inclusive and accessible play opportunities for all children


"Quiet" areas where children with sensory issues can go when they feel overstimulated and need a calm place to relax


Open spaces with playground surfaces that promote mobility for all children

The walkways and paths you place between your separate play areas should be wide enough to accommodate all children on your playground. The ADA recommends a pathway width of 36" to 60." This provides enough space for several children to pass through at a time, with or without a mobility device.

If you use borders to define your outdoor play spaces, installing a ramp will make it easy for wheelchairs to access that area of the playground.

When you are ordering large playground equipment, think about how accessible it would be for a child with special needs. The goal is to buy playsets, slides, swings, etc. that offer ground-level play or ramps that everyone can access.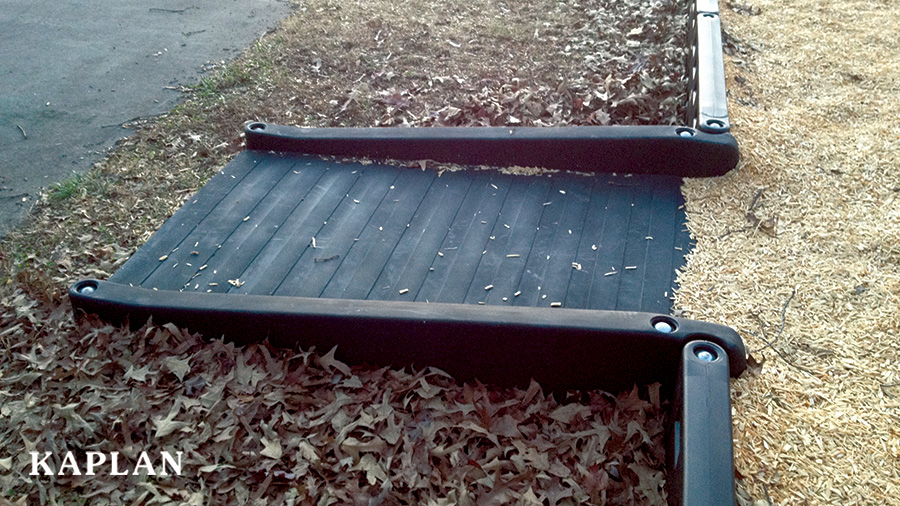 Take a Look at These Playground Equipment Options That Can Make Your Outdoor Spaces More Inclusive and Accessible:
Inclusive play equipment offers children with special needs the right to play with their typically developing classmates. They will still need adult supervision while they are outside and any time a child isn't using their wheelchair or mobility device.
What Should I Consider When Adapting My Existing Playground to One That Is More Inclusive and Accessible?
The type of surfacing material you utilize on your playground is a major consideration when creating an inclusive and accessible space. That is because certain surfaces could pose a challenge for children using mobility devices. For example, sand and pea gravel do meet national safety standards, but neither option is ADA-accessible for mobility devices. On the other hand, loose wood and rubber mulch do meet ADA requirements because of the way they compact when a mobility device moves over them.

In this article, you can learn more about Kaplan's different playground surfacing options that meet ADA standards.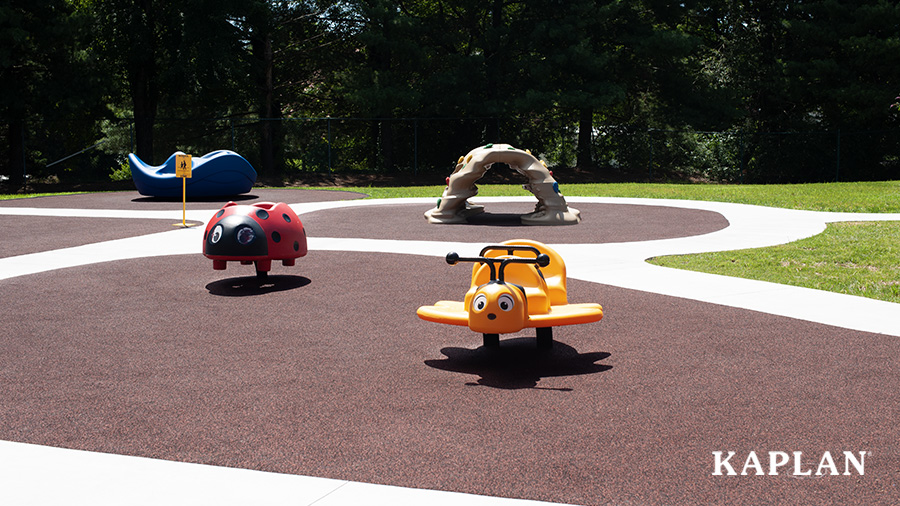 How Can I Create an Inviting Outdoor Space for Children With Sensory Processing Challenges?
When a child feels overstimulated, they need "quiet spaces" away from the busy activity centers on the playground. Create naturally quiet spaces using non-toxic plants and raised garden beds to give children an escape from noisy and rambunctious play. Shade structures and large trees can provide an escape from harsh sunlight and excessive heat.

Incorporate comfortable seating options in your quiet spaces to give children a designated resting spot. The addition of benches or double Adirondack chairs makes these quiet spaces more inviting for children in need of respite.

All children, not only those with special needs, can benefit from a quiet outdoor space.

Visual cue cards are another great way to help children navigate play while they are outdoors. These cards serve as a visual reminder of the designated spaces on your playground, just like they do in the classroom. Visual cue cards can include pictures and numbers that illustrate what you expect children to do in each outdoor area and how many children should play there at a time.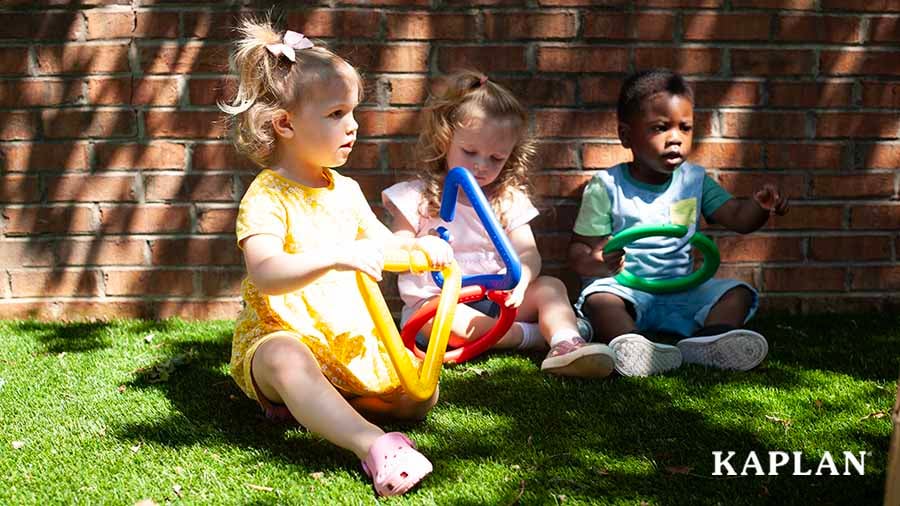 How Can I Encourage Positive Social Interactions and Inclusive Play While Children Are On the Playground?
Small group activities and plenty of developmentally appropriate play equipment encourage opportunities for positive social interactions between children.

Some children experience discomfort in social situations. They aren't sure how to strike up a conversation or how to keep the conversation going once it starts. Being outdoors relieves stress and allows these interactions to happen naturally.

Use weather-resistant art materials like outdoor chalkboards to incorporate creative areas on your playground. Art activities encourage creativity, positive conversations, and fun. Dramatic play and building spaces are also great ways to encourage cooperative play between children. You can fill these spaces with weather-proof blocks and materials that can hold up against the elements (and children).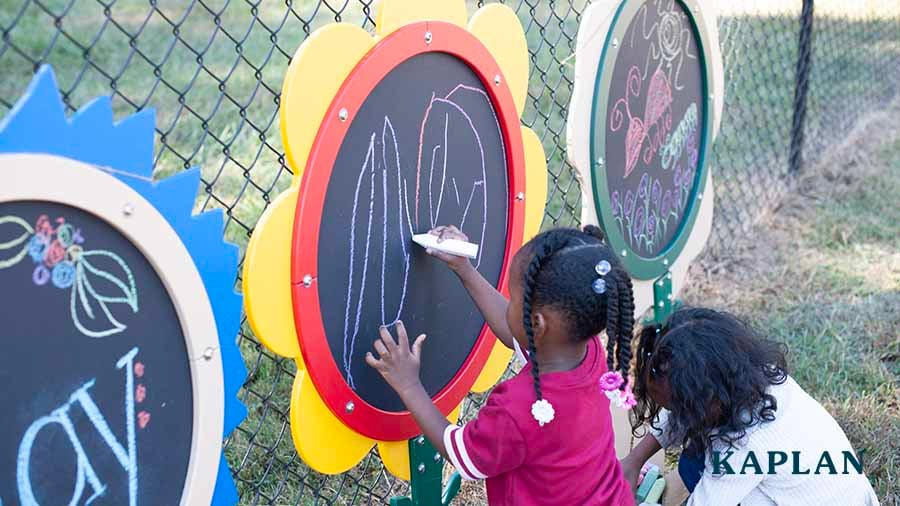 What Is My Next Step?
Now it's time to start adapting your playground to make it more inclusive and accessible! This article shares a few considerations and equipment options that can make this transition effortless. How you decide to incorporate these ideas on your playground is dependent upon your personal preferences and the children in your care.

Kaplan offers a wide variety of inclusive and accessible equipment and materials for your playground. If you need help choosing the options that best fit your needs, reach out to a local Kaplan sales representative today.