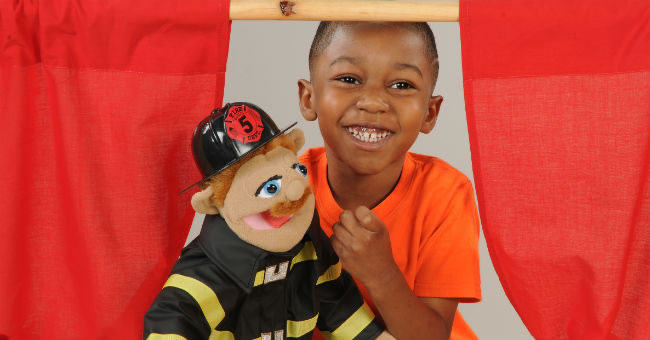 Have you ever wondered why children are drawn to puppets so much? The answer isn't as simple as you may think. According to Jill Stamm, PhD, in her book Boosting Brain Power, puppets are loved by young children for different reasons at different times in their lives. "Puppets have enduring appeal. While infants are developing their visual systems, older babies and toddlers are developing their language centers, and toddlers and preschoolers are developing emotional regulation, their brains are tuned to learn important skills from a caregiver's knowledgeable use of puppets," she writes.
So, what exactly is the best way to use puppets to benefit the children in your care? Check out the tips Stamm shares in her book:
Infants – Choose brightly colored puppets that have a distinct and visible mouth area. Talk using slow, high-pitched, and clearly enunciated words to help keep children's attention. You can reengage infants by moving the puppet as he or she tries to track it.
Young Toddlers – Colorful puppets are excellent language starters for young children. Try to engage children in conversations with the puppets. Silly, fun physical contact from the puppets (touches, gentle tickles, and kisses) tends to delight young toddlers. As they begin to show more interest, encourage young toddlers to touch and hold the puppets for themselves.
Older Toddlers'Preschoolers – An older toddler or preschooler will often feel emotional connections with puppets and confide in them, Older toddlers and preschoolers can also use puppets to help act out new ideas, tasks they're learning, or emotions they want to express. Giving children the opportunity to use the puppets themselves helps them feel in control.
Be sure to browse our great selection of puppets and puppet theaters. You may also be interested in reading our articles about helping preschool children discover different careers and creating learning centers that encourage creative expression.