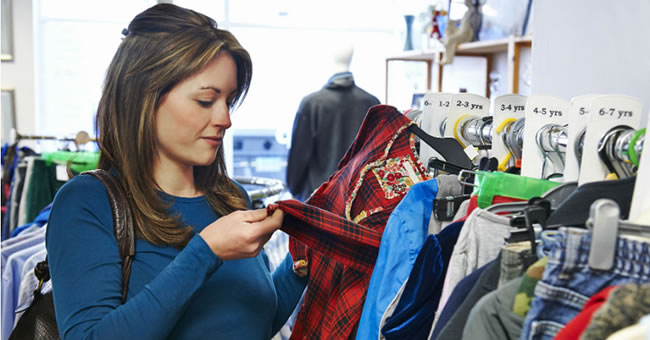 Everyone loves a good deal! And if it's free, that makes the deal even sweeter. For many teachers, the hunt for free or inexpensive materials is a fun and challenging way to start the back-to-school season. Finding school supplies at a special sale, recycling materials, or repurposing other people's castoffs is a cost-effective way to bring in new classroom materials and props for play. In the Thrifty Teacher's Guide to Creative Learning Centers, authors Shelley Nicholson, PhD, and Jessica Martinez share a variety of ways you can find inexpensive materials and turn trash into treasure for your classroom.
Clean Out Your Closet — Your closet is a great place to find gently used clothes, shoes, and bags that children can use for dress-up activities in the dramatic play center.
Send Out Friendly Reminders — Ask your friends and family and your classroom parents to remember you when they clean out their closets or clean up other rooms in their household. Don't be afraid to ask for first dibs if they have some things they're going to donate or sell.
Borrow from Your Own Kitchen — Have any extra pots, pans, measuring cups, or other utensils you can spare? Do an inventory of your kitchen supplies to see if there is anything you can donate to your classroom and students.
Repurpose Packaging Materials — In addition to repurposing items from recycling bins, you can also repurpose a variety of packaging materials, such as cardboard mailing tubes, large mailing envelopes, Styrofoam or molded-pulp braces from items shipped in boxes, etc.
Go to Surplus Events and Special Sales — Manufacturing surplus events often feature free (or very cheap) materials, such as carpet squares, tiles, or fabric. You can also find some great deals on classroom materials during special sales, especially during back-to-school season.
Visit a Dollar Store — Your local dollar stores and even the clearance aisles of your favorite stores are all great places to find inexpensive treasures for your classroom.
Stop at Garage Sales and Thrift Stores — There's a reason garage sales and thrift stores are so popular. Whether you like to find diamonds in the rough that need a little TLC or gently used materials that can immediately be used in the classroom, garage sales and thrift stores are both fantastic places to look for budget-friendly classroom materials.
Ask for Donations from Businesses — Local businesses may be able to donate menus, paper products, hats, and a variety of other cast-off materials and loose parts.
Rotate Materials with Other Teachers — Trade materials such as books, puzzles, or fabrics with other teachers. You can also ask other teachers for materials they are thinking about discarding.
Create Your Own Supplies — Using discarded materials or materials from the recycling bin you can craft simple classroom supplies, props, or even art materials.
Safety Tip: Make sure the materials you bring in are safe and developmentally appropriate for the children in your care.