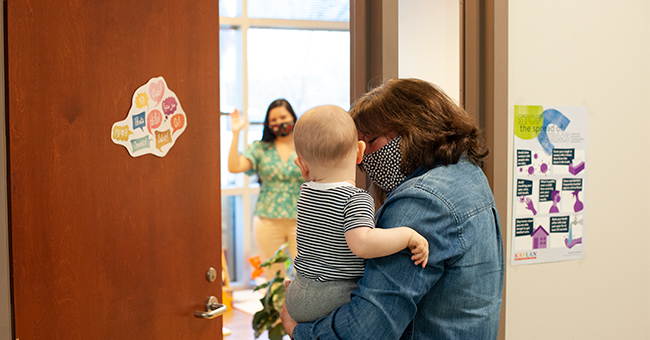 As we get closer to back-to-school season, it's only natural for families to feel anxious about sending their learners to school for the first time. In this blog, Dr. Laura Wilhelm provides educators and caregivers with simple and easy tips for soothing separation anxiety and preparing children for their first day of school.
Every year as hot summer days begin to drag on, families may start to worry about sending their little one off to preschool or kindergarten for the first time. This fall will be a little different for everyone as the COVID-19 pandemic has impacted each of us in different ways. The loss of cherished people, months of economic uncertainty, and worry about things we never even imagined before has been exhausting.
For some families, the silver lining has been extended time together with their young children. But, as hard as it was to make these big adjustments in our schedules last year, it may be even harder to readjust again. Even our pets will have a hard time as things become more "normal". However, thoughtful planning almost always makes changes easier. We don't accomplish anything until we can first imagine ourselves doing it.
For Families
Families and caregivers, use these strategies to help your child ready to head to school.
Help your child imagine themselves as a kindergartner or preschooler.
Pick out an outfit to wear on the first day.
Collect some school supplies.
Create a "playing school" corner at home with pencils, paper, and crayons
Check out the program's website or Facebook page.
Read the letter of welcome from the administrator or teacher to your child.
Show your child the photos and encourage them to ask questions about the school.
Visit the classroom if you can.
Whether you will walk, drive or take a bus to school, do some practice runs.
Plan nighttime and morning routines for school days: lay out clothes, shoes, and backpacks.
Plan bath times, set alarms, and prep breakfasts to reduce morning stress.
Check out these picture books to address children's worries and start your discussions:
The Pigeon Has to Go to School by Mo Willems
The Kissing Hand by Audrey Penn
Pete the Kitty's First Day of Preschool by James Dean and Kimberly Dean
My First Day at Day Care by Janelle McGuinness
Wemberly Worried by Kevin Henkes
Preschool, Here I Come! by David Steinberg
For Teachers
Teachers, try these activities to soothe separation anxiety, make children feel comfortable, and create a welcoming environment in your classroom for children and their families.
Instead of shooing teary-eyed parents out the door while their children cry on the first day, consider implementing my favorite 1st day of school ritual:
Invite families in to explore some quiet table centers with their child like: blank paper and crayons, tray puzzles, Play-Doh with rollers and cookie cutters, LEGO®, Unifix® cubes, or books until everyone has arrived.
Invite families over to the group time rug as you read one of the stories above.
Take everyone outside for an early recess.
As the children happily run and play, tell the parents, "We've got them!" Dismiss the parents with a little token like a sticker that says, "I left my heart in Pre-K. (or Kindergarten, Daycare, etc.)"
And remember . . .
Not everything that is faced can be changed, but nothing can be changed until it is faced.
About the Author
Laura Wilhelm, EdD, is the Vice President of Professional Learning Services at Kaplan Early Learning Company. She has taught in public schools, graduate and undergraduate courses for teachers, administrators, and childcare providers. She has led study tours in Germany, England, Wales, Belgium, France, and Italy. Her research interests include best practices for people under three, nature literacy, and urban education. She is also the author of Treasure Basket Explorations: Heuristic Learning for Infants and Toddlers and the co-author of The Neglected Child.
More from this Author
19 Back-to-School Tips for Virtual Learning
Understanding the Six Types of Neglect