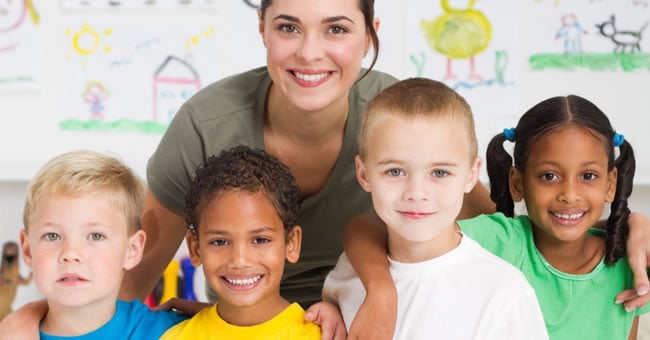 Transitioning to kindergarten can be a scary time for many young children. Whether they've attended preschool or stayed at home with a relative or caregiver, all soon-to-be kindergarteners are at least a little afraid of the unknown. As an educator, you can help families prepare their children for kindergarten by ensuring that they understand what skills children should have when they enter kindergarten and how they can encourage kids to learn and practice those skills.
At Kaplan Early Learning Company, we provide quality resources and materials to help preschoolers learn the skills they need for kindergarten and to give educators the tools they need to facilitate the school-to-home connection that is so important in helping children be successful in kindergarten and throughout their education. We encourage you to browse our tips, free resources, and related materials to gain even more knowledge on what you can do to help make the transition to kindergarten easier for children.
What You Can Do
There are certain expectations for what children should know before they start kindergarten, so you can make the transition to kindergarten easier by promoting fine and gross motor skills, literacy skills, math skills, and social skills with developmentally appropriate activities. Many different resources can provide plenty of activities to use in school and at home to help children learn to count, write, and problem solve among other skills. These areas are the major focus when it comes to preparing kids for kindergarten, but they aren't the only skills children should be learning.
Dr. Pam Schiller explains in Seven Skills for School Success that children need to develop their social and emotional intelligence to be successful learners now and in the future. 'To be successful academically, children need to learn how to control their emotions and how to work in groups; these skills are necessary to thrive in school or any other learning situation. Children who can control their impulses and behaviors are much better prepared to listen and learn.' To help children develop their social and emotional skills, Schiller says educators and families should focus on seven key components of school readiness and success:
Confidence

Children's self-confidence is impacted by a variety of factors, but how adults react to children's efforts plays a major role in children's self-evaluation. Confident children know they don't have to fear failure, are independent, and are able to handle criticism. Adults can foster confidence in children by praising their determination and persistence, encouraging them to try something new, and listening to their suggestions and solutions.

Curiosity

Children love to ask questions and explore their environment, but their natural curiosity may diminish due to society's expectations for children to perform well on tests. Curious children are much more likely to explore, question, and experiment. Adults should make a conscious effort to encourage children's curiosity by using 'I wonder' statements, asking 'what if' questions, and reinforcing cause-and-effect relationships.

Intentionality

Setting appropriate goals and figuring out a plan to achieve those goals are important skills for children to learn. Teaching children about intentionality will help them think before acting and then act with purpose and confidence when they do make decisions. Educators and family members can help children develop intentionality skills by talking about their own plans and goals, sharing any examples of intentional thinking, and reading stories that feature intentionality.

Self-Control

Having self-control or being able to self-regulate can help children know right from wrong, control their impulses and emotions, and make better choices. Establishing boundaries and setting limits when children are younger can help children better respond to stressful situations and postpone gratification when they are told they need to wait for something. Adults can help children learn self-control and self-regulation by talking about ways to handle emotions, teaching children stress management, maintaining boundaries and rules, and trying to understand the cause of any challenging behavior.

Relating to Others

A child's ability to relate to others plays a major role in how he or she acts in social situations. Children who can relate to others often find it easier to have conversations, offer input, show empathy, learn tolerance, and respond to social cues. Watching for 'teachable moments' to discuss empathy and tolerance, teaching visual and verbal clues, and helping children practice the basic rules of politeness are all great ways adults can help children relate to others.

Communication

Being able to effectively communicate thoughts, needs, and wants is an important life skill for children to learn. To master communication skills, children need to learn that communication involves listening, questioning, understanding, and responding. Educators and family members should focus on helping children learn to be 'fully present' when they communicate, expecting children to use complete sentences, practicing conversation skills, and expanding children's vocabulary.

Cooperation

Cooperative children are willing to share, work with others, and follow the rules. Helping children learn to be cooperative can make cooperative play and other experiences more meaningful and efficient. Showing children situations where people work together to accomplish a task, encouraging them to help others, and discussing activities that require cooperation can help children learn to be more cooperative and better prepare them for the transition to kindergarten.
For information about keeping families interested and involved in their children's education once their children start kindergarten, be sure to check out our Family Engagement Resources and Printable.