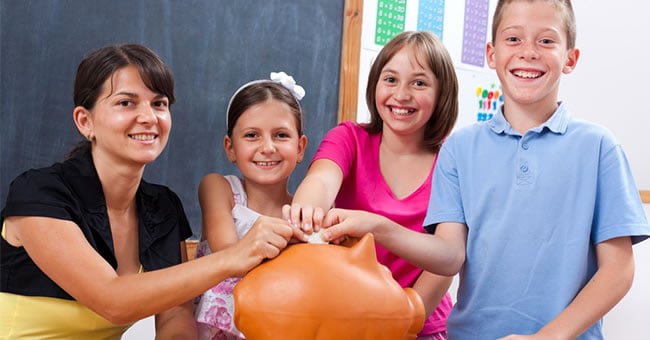 Do you help your students develop financial literacy skills? According to the Council for Economic Education's Survey of the States, less than 20% of teachers feel that they are competent enough to teach personal finance concepts to students. With the amount of debt and lack of money management in the United States and around the world, this is something that must change. We can impact the national and world economy now and in the future by better incorporating financial literacy into standards and curricula and providing training and resources for educators on how to teach financial literacy to students. Here are a few tips on how you can teach financial skills to your students:
Teach Financial Literacy in Stages

The ages of the children in your class and their previous learning experiences will determine which stage(s) you teach them. You don't want to teach them about budgets if they don't know what money is or how to tell a need from a want. Read our blog post "Financial Literacy: The Gift That Keeps on Giving" for more information about the different stages of financial literacy.

Give Them Opportunities to Practice the Financial Skills They Learn

Come up with a plan to incorporate financial concepts into your curriculum and classroom management strategy. For example, you can ask students to plan a fundraiser for a charity or local organization as a class project. Calculating expenses, making a budget, giving customers change, tracking profit, etc. can all be a part of this project-based learning experience for students.

Work with Parents to Teach Children About Financial Literacy

Financial literacy often begins at home with parents giving children an allowance in exchange for them completing chores around the house. Communicate with parents about the financial skills you plan on teaching students in class and include ideas on how they can reinforce those concepts at home. A workshop or family engagement event centered on teaching children and their families about financial literacy is also a good way to bridge the gap between school and home.
Browse our Math section for a variety of materials you can use to teach students about financial literacy and other math concepts.