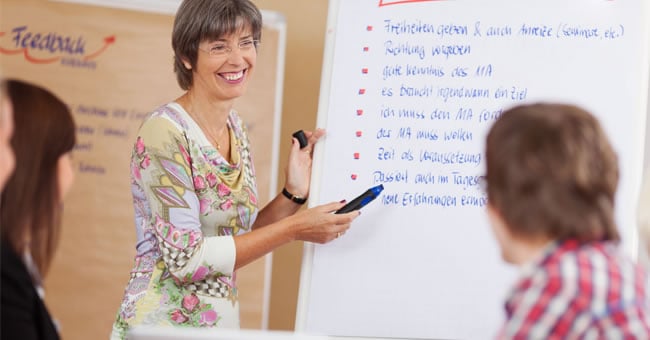 Effectively and efficiently training employees can have a major impact on your program's success and its reputation in the community. Despite the importance of staff training, it often gets treated as a "nice-to-have" instead of a "must-have" in many preschools.
Even though it can be hard to find the funds and time for training your preschool staff, it's important for you to remember that a well-trained staff leads to a high-performing center. If you are the director or owner of a faith-based center, training can be even more critical, because the lessons are about so much more than academics and early education topics.
In a faith-based center, commitment to the preschool ministries vision and biblical integration is crucial. When done well, a training program improves morale and retention in staff, eliminates inconsistency, and enhances overall communication and customer service. Effective training answers questions before they are asked.
Traditional training for staff, administration, and faculty focuses on specific areas of expertise. Teachers are trained on curriculum, staff members are trained on procedures, and administration employees are trained on software and other similar functions. Everyone gets trained on safety and security.
Faith-based centers have an additional component–the ministry's mission in the school and community. And since every employee (no matter what the role) comes in contact with students and parents, it's important that all employees receive training on the mission, vision, and day-to-day implementation required to reach the organization's goals.
For example, if your center uses faith-based rugs and carpets in classrooms, make sure teachers are trained on the bible verse, overall message, and how children can apply the concepts in their everyday lives. You may want to also train teachers on how they can best talk with parents about the faith-based lessons children are learning in the classroom. Training teachers on how to create take-home activities that parents and children can complete together can also be beneficial for your program.
The results of a comprehensive training program are noticeable. In addition to staff retention, there are impacts to student retention, parent referrals, and an overall atmosphere of faith, growth, and development that impacts everyone, not just the students.
One of the unexpected benefits of regular staff training is the explosion of ideas and creativity to make the center successful. Centers that invest in their employees end up with employees who invest in the center and the parent organization. New ideas are presented, operations become more efficient, and the entire team is more productive.
Finding time for training is hard, and it may require paying staff to stay late for an evening session or meeting on a Saturday. If you need to take that step, recognize the sacrifice employees are making and provide them with dinner (or breakfast and lunch if it's a Saturday meeting). Schedule the training sessions well in advance so that employees can make any necessary arrangements.
Going above the minimum requirements for training takes time and has costs, but the benefits far outweigh the disadvantages. Be sure to check out our professional development landing page for more information about the different types of on-site and online training available from Kaplan.
This Insights & Inspirations article was submitted to Kaplan Early Learning Company by Grow-Right. To learn more about Grow-Right, we invite you to visit: http://grow-right.org.