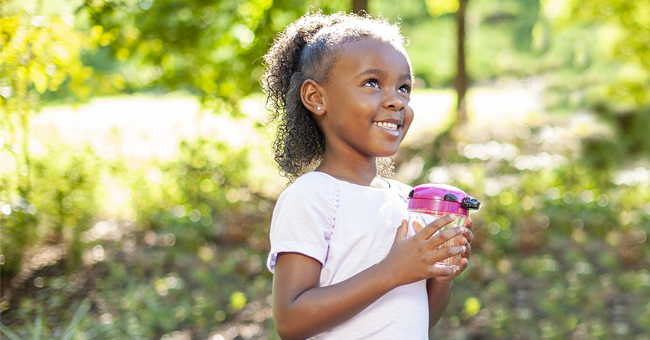 Is your classroom an affirming space for young Black girls? In this blog, Dr. Iheoma U. Iruka challenges educators to move their focus beyond Black boys, and the high rates of preschool suspension and expulsion they face, in order to create learning environments in which Black girls are nurtured and supported.
There are almost two million Black girls, ages birth to 5 years, in the United States.1
National data would suggest that Black girls, especially when compared to boys, are doing relatively well in school achievement, in graduating from high school, and in earning college degrees. However, what remains unspoken is that even with all of those educational achievements, Black women still earn $0.78 to the $1.00 compared to White women.2 This failure to value the talents and intelligence of Black women does not begin when they are enter the workforce but starts in the first few years of life.
Numerous data, rightfully, show that Black boys are 2.5 times more likely to be suspended or expelled from preschool compared to their peers. Data specific to Black girls reveal that while boys receive more than two out of three suspensions, Black girls are suspended at higher rates (12%) than girls of any other race or ethnicity.3 Generally speaking, Black girls are frequently disciplined for subjective behavioral actions such as talking back and questioning authority or behaving in ways adults perceive do not align with "White femininity."4 These negative and deficit perspectives create barriers to academic success for Black girls, who are rendered invisible. Is invisibility the other side of the coin of hypervigilance, with teachers waiting and expecting destructive behaviors from Black boys while dismissing the presence and needs of Black girls?
Even with the visible incidences of Black girls assaulted and brutalized on school grounds—including Kaia Rolle, a six-year-old who was arrested, cuffed, and fingerprinted after she threw a kicking tantrum in her Orlando, Florida, elementary school class—there is still limited attention on the biased experiences of Black girls in learning settings, especially in the early years. Evidence is clear that Black girls get messages early about their worth, value, and beauty compared to the White normative standard. Smith-Evans and colleagues (2014) find that Black girls are often viewed as "loud, confrontational, assertive, and provocative,"5 which has an impact on their self-confidence, self-esteem, and positive racial and gender identities.
Here are some practices to ensure that the early care and education environment is a warm, nurturing, and affirming space for young Black girls, helping children start to form positive racial and gender identity in the early years.
How Can Early Educators Engage in Equitable Practices with Black Girls?
1. Check biases about Black girls.
Implicit biases are automatic and uncontrolled thinking that affect our attitudes toward others. These biases are thought to be involuntary and not under the individual's conscious control and can lead to either favorable or unfavorable characterizations of others.
Educators need to make sure that they examine whether they view Black girls through a lens of race and gender bias that considers them as sassy, independent, and not in need of any help.
If educators hold that view, then they must question why they may have this particular perspective about Black girls and consider how they can change their interactions and foster an environment that supports and nurtures Black girls.
2. Make the physical environment of the program and classrooms welcoming for Black girls.
Black girls often get the message that something is wrong with them—their hair, skin color, how they talk, and how they carry themselves.
Display images of Black girls and women in the classroom that exude warmth and strength, and ensure that they are not stereotypical images.
Provide books in the classroom that represent the diversity of Black children, including Black girls. Evidence shows that children's books are more likely to have animals than children of color.6
Examine all the play and learning materials to ensure that they include Black phenotypic dolls or toys with diverse hair and skin textures. Providing classroom materials, such as the coloring pages and pictures, that represent Black girls' faces will also ensure that they see images that look like them in all the spaces where they learn.
3. Provide nurturing and responsive experiences that promote children's engagement and develop relationships.
Enriching experiences engage children, build their cognitive and socio-emotional development, and create close relationships between girls and educators.
Engage Black girls in conversations that focus on their interests, experiences, and thoughts. Ask them open-ended questions to determine how they may spend their weekends, holidays, or free time. Find out if there are particular books, shows, or learning materials they enjoy and why. These back-and-forth conversations—also called serve and return—build language and strengthen the teacher-child relationship.
Provide opportunities for Black girls to be leaders and take on ownership and responsibilities, whether that includes helping younger children clean up their learning materials or selecting the book of the day.
Besides asking the girls what they like to do, observing what they want to play with, whom they play with, and what makes them happy or sad can provide clues for activities that promote their engagement and joy of learning.
Listen to how Black girls speak and the kinds of words they use. If there is a word or phrase you don't recognize, ask them what it means. You can also ask them to share words and phrases they use at home or with friends. Think about how you can build their home language or vocabulary into the classroom instruction or activities or create a lesson around it. Ask other children to share the words and phrases they know or use at home.
Create a series of lessons focused on learning about how the girls are experiencing the classroom. For example, ask the girls to either tell a story, draw, or act out a time when they had a happy moment in the classroom. In another lesson, focus on a time they were sad or felt frustrated. This will provide you with information on their experiences and help you understand how they may be seeing and experiencing the classroom.
4. Engage in interactions that build Black girls' positive racial and gender identity.
Children who have a positive racial identity are likely to have better school achievement and socio-emotional development.7 These identities begin to form in the early years.8
Find activities that bolster girls' awareness of their racial and gender identities, such as viewing works of art, hearing stories, or offering lessons about the contributions of Black women, including doctors, lawyers, singers, scientists, teachers, engineers, artists, and astronauts, to American life.
Engage children in conversations about fairness, justice, and people being mistreated or treated better than others because of their skin color or gender. Invite children to talk about how they look similar to each other and look different, and encourage them to appreciate themselves and each other. Discuss what they could do if others were being mistreated because of their skin color or gender.
5. Engage in discipline that is fair and nonjudgmental.
Evidence indicates using harsh discipline practices results in a negative impact.9,10
Educators should ensure that discipline practices are not focused on shaming children but rather on redirecting them to be their best selves. Focusing on punishment, which is a negative reinforcer, is not helpful for children's socio-emotional development.
Ensure that girls' behaviors are viewed through a lens of developmentally appropriate practice and not one that is focused on adultification, meaning that Black girls are often judged as being older than they are and are expected to "know better." Provide room allowing girls to have fun and make and learn from their mistakes.
Ensure that harsh discipline, such as suspension and expulsion, are used infrequently, if at all. When children are removed from a classroom or program without attention to the issues that may have caused the behavior, such as hurt, fear, loneliness, exclusion, attention, and so on, we are not taking the time to understand and support children's development and problem-solving skills.
Black girls live in a country that is often biased against them due to the intersection of two identities—their race and their gender. This bias can be complicated by other identities, including their social class, language, special needs, gender identity, religion, and so much more. While educators are hypersensitive to Black boys, there is a possibility that they may be ignoring the needs of Black girls and thereby negatively impacting girls' socio-emotional health. It is time that educators examine their biases and create environments that affirm Black girls' race and gender.
About the Author
Iheoma U. Iruka, Ph.D., is founding director of the Equity Research Action Coalition at Frank Porter Graham Child Development Institute and research professor in the Department of Public Policy at The University of North Carolina at Chapel Hill. Prior to rejoining Carolina, she served as chief research innovation officer and director of The Center for Early Education Research and Evaluation at HighScope Educational Research Foundation. Dr. Iruka was previously at the Buffett Early Childhood Institute at the University of Nebraska and the UNC Frank Porter Graham Child Development Institute.
Dr. Iruka is engaged in projects and initiatives focused on how evidence-informed policies, systems, and practices in early education can support the optimal development and experiences of children from low-income and ethnic minority households, such as through family engagement and support, quality rating and improvement systems, and early care and education systems and programs. She has been engaged in addressing how best to ensure excellence for young diverse learners, especially Black children.
Dr. Iruka has served or serves on numerous national boards and committees, including the Brady Education Foundation and the National Academies of Sciences, Engineering, and Medicine committees on Supporting Parents of Young Children and Applying Neurobiological and Socio-behavioral Sciences from Prenatal through Early Childhood Development: A Health Equity Approach. She is also a co-author of Don't Look Away: Embracing Anti-Bias Classrooms.
References
1Tamir, C., Budiman, A., Noe-Bustamante, L., & Mora, L. (2019). "Facts about the U.S. Black Population." Pew Research Center. https://www.pewresearch.org/social-trends/fact-sheet/facts-about-the-us-black-population/
2McLean, C., Austin, L.J.E., Whitebook, M., & Olson, K.L. (2021). Early Childhood Workforce Index – 2020. Berkeley, CA: Center for the Study of Child Care Employment, University of California, Berkeley. Retrieved from https://cscce.berkeley.edu/workforce-index-2020/report-pdf/
3Office for Civil Rights. (2016). Data Snapshot: School Discipline, Issue Brief No. 1. U.S. Department of Education, Office for Civil Rights. http://ocrdata.ed.gov
4 Annamma, S. A., Anyon, Y., Joseph, N. M., Farrar, J., Greer, E., Downing, B., & Simmons, J. (2016). Black Girls and School Discipline: The Complexities of Being Overrepresented and Understudied. Urban Education, 54(2), 211-242. https://doi.org/10.1177/0042085916646610
5Smith-Evans, L., George, J., Goss Graves, F., Kaufmann, L.S., & Frohlich, L. (2014). Unlocking Opportunity for African American Girls: A Call to Action for Educational Equity. NAACP Legal Defense'Educational Fund, Inc. and National Women's Law Center. https://www.nwlc.org/sites/default/files/pdfs/unlocking_opportunity_for_african_american_girls_report.pdf
6Cooperative Children's Book Center, School of Education, University of Wisconsin-Madison. (2021). "Books by and/or about Black, Indigenous and People of Color (All Years)". CCBC. https://ccbc.education.wisc.edu/literature-resources/ccbc-diversity-statistics/books-by-about-poc-fnn/
7Brown, C. S., & Chu, H. (2012). "Discrimination, ethnic identity, and academic outcomes of Mexican immigrant children: The importance of school context." Child Development, 83(5), 1477-1485. https://doi.org/10.1111/j.1467-8624.2012.01786.x
8Iruka, I. U., Curenton, S. M., Durden, T. R., & Escayg, K.-A. (2020). Don't Look Away: Embracing Anti-Bias Classrooms. Lewisville, NC: Gryphon House.
9Gilliam, W. S., Maupin, A. N., Reyes, C. R., Accavitti, M., & Shic, F. (2016). Do early educators' implicit biases regarding sex and race relate to behavior expectations and recommendations of preschool expulsions and suspensions? Research Study Brief. Yale University, Yale Child Study Center, New Haven, CT.
10 Gregory, A., Skiba, R. J., & Noguera, P. A. (2010). "The achievement gap and the discipline gap: Two sides of the same coin?" Educational Researcher, 39(1), 59-68.