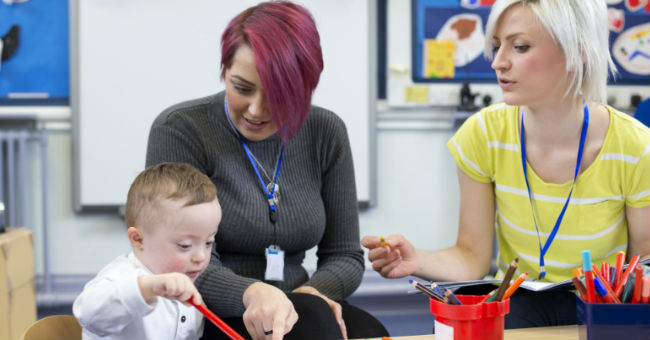 What message does your preschool environment send children and their parents? Is it a general message or a more specific one? Families assess preschool environments from the moment they walk in the door. With the diverse abilities and cultures in today's preschool classrooms, a warm, customized environment will provide a better welcome to the families of your students than a cold, institutional one. To ensure that your environment is sending the right message, it's important to create an inviting atmosphere for children and their loved ones. In The Welcoming Classroom, Johnna Darragh Earnst, PhD, offers several design principles and strategies you can use to create an inviting and inclusive preschool environment:
Design Principle #1: Equitable Use
The design is useful to all families.
Strategies for Access
The design takes into account each family's language, culture, and abilities.
Materials are available in the home languages of families served.
Materials take into account the literacy levels of families served.
Strategies for Participation
Families should have space, such as a small sofa, for one-on-one conversations.
The environment is equally appealing to all participants.
Pictures are posted within the environment to reflect the homes, communities, and abilities of the children and families served.
Design Principle #2: Flexibility
The design accommodates a wide range of individual preferences and abilities.
Strategies for Access
Information is shared in a variety of formats (e.g., conversation, video, online, written, and pictorial).
Information is presented in languages and literacy levels that are accessible to all families.
Strategies for Participation
Families should have a choice in how they participate within the environment. Give them the option to converse with teachers in the classroom, conference in private, or meet with other families.
Design Principle #3: Simple and Intuitive Use
The design is easy to understand, regardless of user's language skills, experience, knowledge, or concentration level.
Strategies for Access
Signs are posted in a variety of different languages.
The signs incorporate pictures and account for variance in literacy levels.
Strategies for Participation
Families can enter the building or classroom environment and immediately know expectations.
If families need assistance, it is apparent where to go for help.
Be sure to read The Welcoming Classroom for additional design principles and strategies for creating a welcoming environment for children and their families. You can also find helpful resource articles in the Family Engagement and Classroom Setup categories of our Insights and Inspirations section.