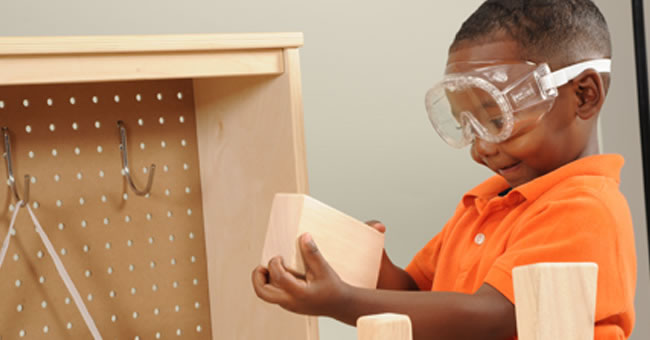 When it comes to education, racial disparities regularly influence children's success in school. According to researcher Walter Gilliam, PhD, the director of the Edward Zigler Center in Child Development and Social Policy at Yale University, preschools are expelling children at three times the rate of K–12 schools. Gilliam asserts, "Preschool boys are expelled at 4.5 times the rate of girls, and African Americans are expelled at twice the rate of their non-Black peers."
Preschools are places where children learn positive social skills and develop overall school readiness. High-quality preschool programs are especially needed for children who come from disadvantaged backgrounds. Gilliam says, "We know that children of color unfortunately are more likely to live in low-income families and in low-income communities." Expelling or suspending preschoolers removes these children from the very resources they need to have later educational success. As an educator or caregiver, one way you can help African American boys be successful in school and in life is by helping them start off their school careers with positive experiences in early childhood programs. In Wired to Move, Ruth Hanford Morhard shares the following strategies for nurturing African American boys in preschool:
Develop relationships with boys, their families, and their neighbors.

Boys are influenced by what they have learned at home and in their community, so it's important that you get to know them and the important people in their lives. Understanding who and what has influenced the African American boys in your class will help you find the best ways to teach them. Here are a few ways you can nurture these relationships:

Schedule time to visit boys' homes and families before the start of school, and also make sure that you are genuine and show interest during each visit.
You can bond with the boys in your classroom by showing interest in their lives and by getting to know their likes and dislikes, learning styles, interests, abilities, and struggles.
Making friends in each boy's neighborhood is also a good way to develop relationships with organizations that can give you important information or provide valuable assistance for boys and their families.

Focus on strengths, not problems.

Focusing on boys' natural abilities and strengths can help you provide the encouragement and strong foundation African American boys need to be successful and comfortable in educational environments. Three ways you can focus on the strengths of African American boys include:

Follow a good coach's example by giving boys opportunities to be successful, encouraging them through the process, and advising them in a positive way.
Use rap music to influence African American boys in an educational way. Incorporate rap beats to teach them ABCs and 123s, or help them develop their own raps to learn colors, shapes, and names.
Channel boys' extra-high energy by including more time for large-muscle activities and competitive games. Remember high-energy activities also provide opportunities for positive leadership.

Promote a positive racial identity.

Learning about the African American culture and communicating your knowledge of it will help you better understand how to help African American boys take pride in their culture and traditions and ultimately excel at learning. Here are a few ways you can promote a positive racial identity in the classroom:

Give children and their families opportunities to share information about their heritage, family, and traditions. Encourage them to bring in items from home or to talk about the special traditions their families do on holidays or special occasions.
Post pictures of admirable African Americans in the classroom. Seeing pictures of African Americans who have made an impact in science, math, the arts, business, politics, civil rights, and sports will allow children to see African Americans in a variety of roles.
Celebrate African American holidays and special events by teaching children about the history of Martin Luther King Day, Black History Month, Kwanzaa, and other African American traditions.

Involve African American men in early childhood activities.

Providing good role models for African American boys is essential to their success. Three ways you can make an effort to involve African American men in early childhood activities include:

Hold career days with male guests and recruit male readers to read to your preschoolers. Make sure you involve men of all ages, from children's grandfathers and other male relatives to successful high school scholars and graduates.
Hiring male teachers and aids or recruiting male volunteers to help in the classroom on a regular basis will also provide boys with positive male role models.
Make sure your classroom or center is father friendly by encouraging their input and feedback. You can also host father-son events that allow the significant males in boys' lives to participate in educational activities.

Set expectations high.

Many people have a mindset that African American boys cannot succeed, which often influences these children into believing that this is true. Setting your expectations high will show African American boys that you believe in them and think they can succeed. Here are a few ways you can help these boys have high expectations of themselves:

Ask African American boys about their hopes and dreams and then have them set goals. Setting short- and long-term goals is a great way for boys to compete with themselves and make progress in their growth and education.
Encourage African American boys to look beyond their surroundings by having them read about African Americans who explored the world, invented fun new things, or accomplished other exciting goals.
Expose them to role models and constructive occupations that they may not consider when they think of their future. This is a great way to show them that they can be anything they want.
Using constructive approaches to discipline is also a good way to nurture African American boys in preschool. The African American boys in your class may use challenging behaviors to get the attention of adults. When this happens, you need to be assertive and redirect their behavior. For more information about nurturing boys in preschool, be sure to read Wired to Move and browse our related products for materials you can include in your classroom.
Gilliam, Walter. 2014. "What Could Make Less Sense than Expelling a Preschooler?" Psychology Benefits Society. American Psychological Association. https://psychologybenefits.org/2014/12/13/preschool-expulsions/