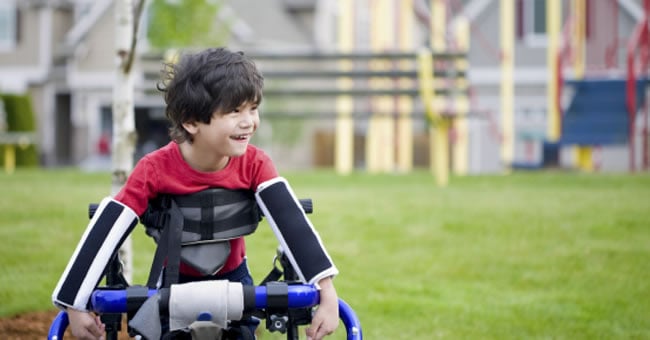 All young children need to develop the physical skills required to move, be healthy, and participate in activities throughout life. However, preschoolers with special needs are often less physically active than their peers and struggle to develop the physical skills needed to increase their muscle tone and strength and make them more mobile. In his book Encouraging Physical Activity in Preschoolers, Steve Sanders, EdD, offers the following tips for educators and caregivers helping preschoolers with special needs develop physical skills:
Make sure the feedback you give the child is task specific, such as, "I like the way you use your fingertips when bouncing the ball." It's also good for you to demonstrate skills for children whenever possible.
Emphasize the child's abilities instead of his or her disabilities. Stay away from activities that may frustrate children, and try them again when the child shows interest in learning the skill.
Select skills that are functional for the child. For example, throwing or dropping a ball into a large basket instead of having them try to hit a target that is on the wall.
Provide children with more frequent opportunities to practice so they can retain the skill levels they have achieved.
Always work at the ground level with balance activities (choose a beam that is only a few inches off the ground), and let the child develop some proficiency at that level before you move to a higher beam.
If a child has a visual impairment, ask him or her to hold your hand during travel practice or to touch the shoulder of a preschool friend who is moving directly in front of the child. Make sure you use oral cues to tell the child what to do.
Sanders also discusses the Individuals with Disabilities Education Act (IDEA), which requires children with a disability to receive physical education instruction, even if other students in the preschool don't receive similar instruction. As you help children with special needs develop their physical skills, keep in mind that children with disabilities will likely need more time, patience, and instruction to learn new skills.
Be sure to browse the Special Needs and Inclusion section of our website for a variety of materials you can use to help children with special needs succeed. The Inclusive Classroom category of our Insights and Inspirations section also features some great tips and articles on teaching children with special needs.