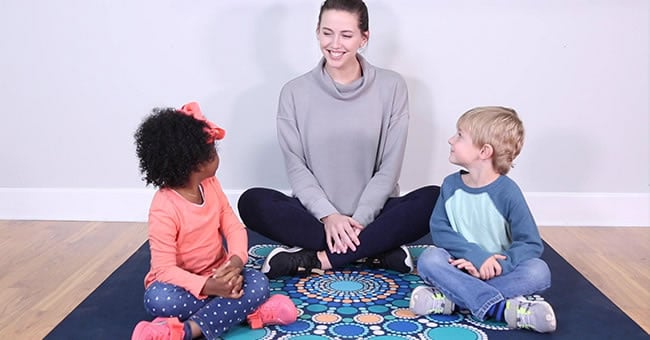 Bring a sense of peace and calm to your home or classroom with these Mindfulness Activities for Kids! Easily incorporated into any lesson plan, these simple exercises are the perfect way to bring social-emotional learning to busy schedules. Help children relax, reflect, and refocus during moments of stress or classroom chaos with these easy yoga moves!
See below to download our FREE printable!
What Are Mindfulness Activities For Kids?
Mindfulness, sometimes called mindfulness meditation, means giving your full attention to something. Whether it's your surroundings or your inner thoughts, when you're mindful, you're taking time to relax and really slow down to notice your thoughts and actions. Many people practice mindfulness without even realizing it! Have you ever gone on a walk and stopped to notice the beautiful scenery along the way, or taken a quiet moment to write your feelings down in a journal? If you have, then you've already practiced your own form of mindfulness.
Fun and easy, these Mindfulness Activities for Kids include simple breathing and yoga exercises that introduce the concept of mindfulness in a way that's accessible to children. Kids will love getting out their wiggles and worries using techniques like Mermaid Tails and Big Bad Wolf Breaths. More than just physical exercises, these mindfulness moves help young children develop strategies for handling their growing feelings in a positive way.
Why Is Practicing Mindfulness Important?
From giving children a way to relax and reflect, to helping them build resilience and positive coping strategies, mindfulness holds numerous benefits for those who practice it! Practicing mindfulness has been shown to help bring calm to stressful situations, increase patience, and improve attention spans. For children especially, having a healthy outlet for when they are upset, can't concentrate, or just need a quiet moment to themselves is an important part of positive social-emotional development.
Mindfulness also plays an important role in teaching children how to self-regulate in situations where they may be feeling sad, angry, or hurt. When children are equipped with tools like mindfulness strategies, they are able to build an understanding of their own emotions and how to address them in a way that works best for them.
How Can I Use This in My Lesson Plan?
Mindfulness can be practiced at any time of the year and allows children a way to keep calm and focused on learning during exciting or stressful times of the school year. These Mindfulness Activities for Kids are simple and can be as short or as long as you like! Need a quick mindfulness moment? Try the Candle Breaths for 30 seconds. In search of a longer mindfulness activity you can incorporate into circle time? Create new combinations of these mindfulness moves as a group and encourage children to create their own calming techniques.
You can also extend these mindfulness activities beyond circle time. Once they've had time to practice these mindfulness techniques, encourage children to try some of these moves on their own. They'll love learning more about their own emotions and how to address them while having fun exploring new yoga and breathing techniques on their own terms. Mindfulness is what you make it! From quiet moments of reflection to active mindfulness activities that get learners moving, there are endless ways to incorporate mindful thinking and actions into your lesson plan.
Not sure where to begin? Kaplan's Mindfulness Mat Kit is full of mindfulness inspirations! Created by beloved recording artist and kids yoga expert, Bari Koral, the mindfulness mat kit is a wonderful place to start your mindfulness journey, and the perfect tool for parents and teachers in search of ways to include mindfulness in their routines. Enjoy the benefits the practice of mindfulness brings without the worries of lesson planning with this kit's easy-to-use guide and activity cards. Don't forget! Mindfulness is for parents and teachers, too!
How Can I Practice Mindfulness At Home?
Mindfulness isn't just for the classroom! Mindfulness activities are a great way for families to have fun together while they build good social-emotional habits. Practice mindfulness together at home using these activities or create your very own!
Mindfulness doesn't have to be complicated, in fact, it isn't supposed to be! Work together as a family to turn daily activities into mindful moments. For example, start your mornings with some fun stretches or breathing exercises to greet the new day and prepare for any adventures that come your way. At mealtimes, encourage your child to reflect on their favorite foods and why they're thankful for them, or start fun family discussions about where different foods come from and the community helpers that played a part in bringing them to your table. You can also take mindfulness outside! When children have lots of energy and get fidgety, take a few minutes out of your day to incorporate mindful physical activity like a short nature walk. Mindful exercises can help children work out their excess energy in a productive way.
The possibilities for including mindfulness in your daily routine are endless, all it takes is an open mind and a little imagination and every experience can be turned into a moment of reflection and growth that benefits your whole family.
Download our FREE printable below!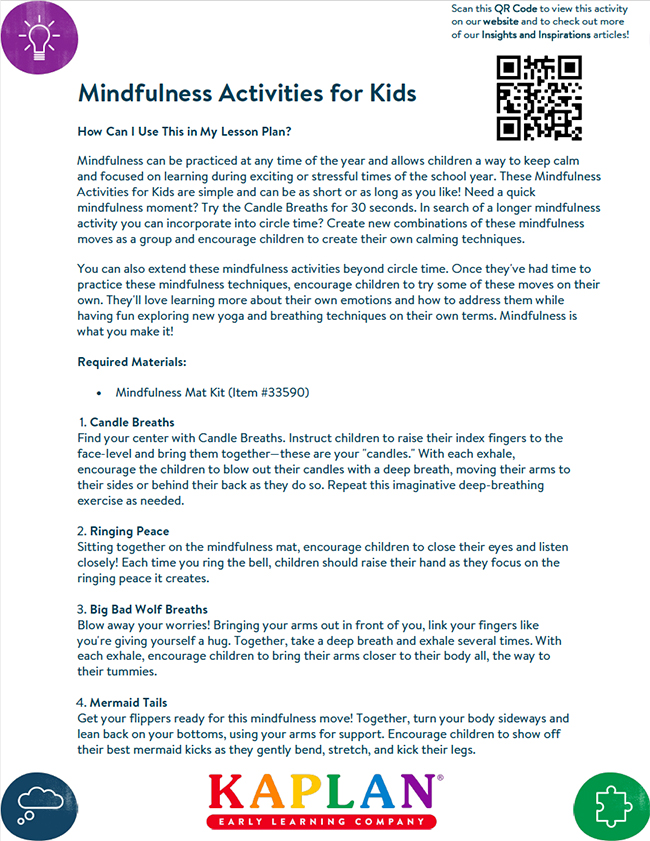 Required Materials:
1
Candle Breaths
Find your center with Candle Breaths. Instruct children to raise their index fingers to the face-level and bring them together—these are your "candles." With each exhale, encourage the children to blow out their candles with a deep breath, moving their arms to their sides or behind their back as they do so. Repeat this imaginative deep-breathing exercise as needed.
2
Ringing Peace
Sitting together on the mindfulness mat, encourage children to close their eyes and listen closely! Each time you ring the bell, children should raise their hand as they focus on the ringing peace it creates.
3
Big Bad Wolf Breaths
Blow away your worries! Bringing your arms out in front of you, link your fingers like you're giving yourself a hug. Together, take a deep breath and exhale several times. With each exhale, encourage children to bring their arms closer to their body all, the way to their tummies.
4
Mermaid Tails
Get your flippers ready for this mindfulness move! Together, turn your body sideways and lean back on your bottoms, using your arms for support. Encourage children to show off their best mermaid kicks as they gently bend, stretch, and kick their legs.
Explore mindfulness and more in the classroom and at home! Browse our selection of related resources to encourage early social-emotional explorations and bring mindfulness into your classroom.