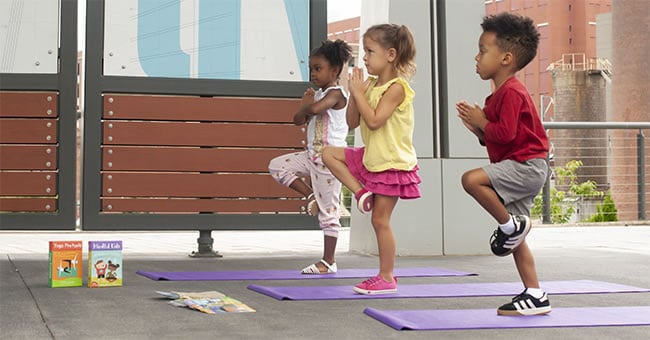 How do you behave when someone cuts you off in traffic or steals the parking space you were waiting for at the mall? Do you get angry, yell, or confront the other driver? Or do you count to ten, take a deep breath, and let it go? Your response to these situations is dependent on whether you know how to control your emotions and actions and whether you have the appropriate coping mechanisms in place.
Young children also experience frustrating situations, but they are not yet able to control their emotions or efficiently cope with their reactions. Children have to learn and develop skills in controlling their emotions and actions, which is why self-regulation has emerged as a vital principle of early childhood development for preschoolers and kindergarteners.
What Is Self-Regulation?
Self-regulation is an internal mechanism that helps children (and adults) to engage in behavior that is mindful, deliberate, and considerate. In other words, children need to have the ability to control their impulses and to stop behaving or reacting negatively. This allows children the chance to think through the situation and think of any actions and consequences that may result if they react a certain way. Children must also have the ability to do something necessary or required, such as following classroom rules, even if they do not want to do the required task or behavior.
Why Is Self-Regulation Important?
The concept of self-regulation does not just apply to a child's emotional health; it also influences a child's cognitive ability. The ability of children to self-regulate their feelings and actions in preschool is related to their math and literacy abilities in kindergarten, which suggests curricula intended to help children develop self-regulation skills and improve early academic abilities may be the most successful tool in helping children make significant progress in school.
A lack of self-regulation can seriously hinder a child's learning capabilities and the overall classroom environment. If children do not learn to self-regulate their listening and attention skills, they will either miss part of the lesson or inadequately learn the material. Teachers also run out of energy if many of the kids in their class cannot regulate their behavior, which leaves teachers little energy for successfully teaching academic lessons and skills. In fact, teaching kindergarteners how to self-regulate their behavior and actions has become a main goal for kindergarten teachers due to many children struggling to follow directions in the classroom. This shows that children must learn and develop self-regulation skills for their own future and for effective classroom management.
How Can I Promote Self-Regulation?
Promoting self-regulation in the classroom is becoming increasingly popular due to the benefits to both children and teachers. Teaching self-regulation in the classroom is important because the emotional and cognitive areas of the brain may not reach their full potential if children do not continually practice self-regulation at a young age. There are several ways teachers and caregivers can encourage children to learn self-regulation skills. Early learning professionals Linda Groves Gillespie and Nancy L. Seibel recommend the following methods for encouraging preschool children:
Have a willingness to adapt your teaching style to a toddler's temperament, especially when you are talking with or teaching the child one-on-one. This can help support children's ability to handle their emotional reactions to new situations.
Observe cues about how children feel and respond to their individual needs.
Provide structure and predictability to help children feel more comfortable and safe with you as a caretaker and in the classroom.
Arrange appropriate environments for the age group you are teaching. Be sure kids can reach shelves, have age-appropriate books and toys, and that everything is organized and clearly labeled.
Define age-appropriate limits, such as classroom rules, to help children feel safe and know what is expected of them.
Be caring and show empathy to help children understand that you recognize their needs. This makes children feel important and helps them better handle strong emotions.
For promoting self-regulation in kindergarteners, Dr. Elena Bodrova and Dr. Deborah J. Leong, two early learning professionals, recommend teachers apply the following methods:
Make sure all the children in your class are learning and developing skills in self-regulation; do not solely focus on children who are currently struggling.
Provide opportunities for children to practice and apply the rules of certain behaviors in new situations. Children should practice following the rules, setting the rules, and applying the rules to themselves.
Give children visual, noticeable reminders about self-regulation. This helps them remember rules and behaviors and helps bring their attention to the task at hand.
Incorporate play and games into lesson plans because children learn best with hands-on activities. Make-believe play is also a great opportunity to help children learn and develop skills in self-regulation.
All of these recommended methods are great tips to incorporate in your classroom. Keep in mind that there are also some great social-emotional curricula available to help teach self-regulation. Be sure to check out our Conscious Discipline resource for additional information.