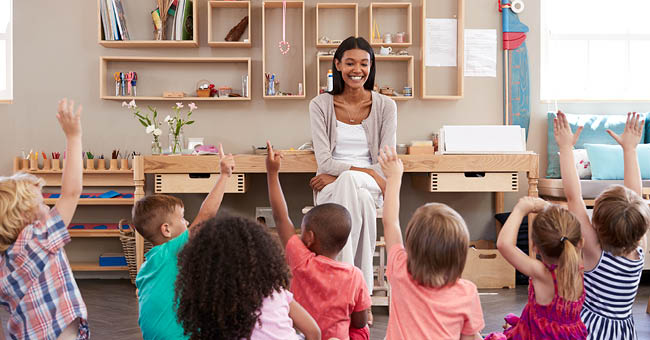 No one can make uncomfortable observations like a preschooler can! In this next installment of our series on gender identity in preschool, written by child psychologist and early education author Dr. Ginger Welch, we discuss how teachers can handle challenging comments and why asking questions is a good thing.
A child shares about his family of two fathers and a sister. Suddenly a hand shoots up from the class and a child announces, "My mom said you can't have two dads. Where is your mom?" The teacher has to make a split-second decision about how to react and avoid a "You are right, and you are wrong" trap. How fast can you think on your feet?
First, remember that the first child may have the answer. But if he doesn't look ready to respond, you can begin by validating the facts. "Myron does have two dads. That is his family." You can also expand on that by emphasizing the diverse nature of all the families in the classroom, thereby taking the issue from a "you vs. me" conversation to a larger platform. A statement such as, "Families look different because we all have different adults who care for us," can be useful.
Remember, too, the power of a teacher endorsement. Your word means a lot to the children in your care. You could make a statement such as, "I know families with two dads or two moms." This is inclusive for the child with two dads, because the teacher is validating his family type. It is also inclusive for the child with the question, because it emphasizes learning about families rather than simply declaring right versus wrong.
Finally, teachers can offer an interpretation of the feeling behind the child's story. When a child tells a story about his or her family, they are giving the class a glimpse into something special. A teacher could offer, "Myron does have two dads. That is his family, and I love the pride in his voice when he told us about their family tradition of going camping."
About the Author
Dr. Ginger Welch is a former early childhood educator and current licensed psychologist and infant-mental-health mentor who has provided early intervention and early childhood mental-health services for over twenty years. As a full-time clinical associate professor at Oklahoma State University, she conducts research on early childhood trauma and child maltreatment and routinely presents at national conferences, including the National Association for the Education of Young Children and Zero to Three. Dr. Welch is the author of the resource books How Can I Help? A Teacher's Guide to Early Childhood Behavioral Health and The Neglected Child: How to Recognize, Respond, and Prevent.
Explore This Series
Gender Identity in Preschool Children
Gender Identity in Preschool Children Part 2: Communicating Inclusively with Parents and Caregivers