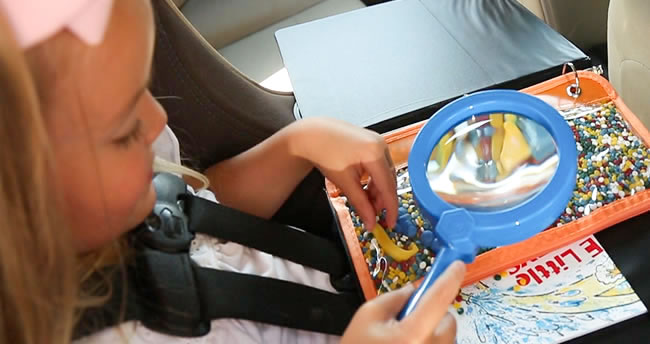 Looking for a way to entertain children when on a trip or running errands? This DIY Busy Binder provides fun activities that focus on math, STEM, fine motor skills, literacy, and art. Many parents and teachers worry about retention as children take a break from school, but these monkey-themed busy bags provide an extended learning opportunity outside of the classroom. The Five Little Monkeys Busy Bags featured in the binder will keep children entertained and engaged during road trips and plane rides or just around the house!
How does the DIY Busy Binder provide learning opportunities during the summer?
Car rides can be tedious and frustrating for both parents and children. While you want to keep children entertained, screen time for several hours can be unhealthy. By creating busy bags to go in your binder, you create a fun and informative activity to occupy children on the road. These bags allow children to practice counting, fine motor skills, language, and dramatic play all while enjoying their favorite characters. You can even play the audio books in the car as you drive.
Why is it important to make DIY Busy Binders for children?
DIY Busy Binders are an interactive and educational activity to keep children learning in the summer. Many children suffer from learning loss (also known as the "summer slide") over summer break due to reduced educational opportunities. It is important that you provide learning resources for children and allow them to practice the skills they learned over the school year.
Download our FREE printable below!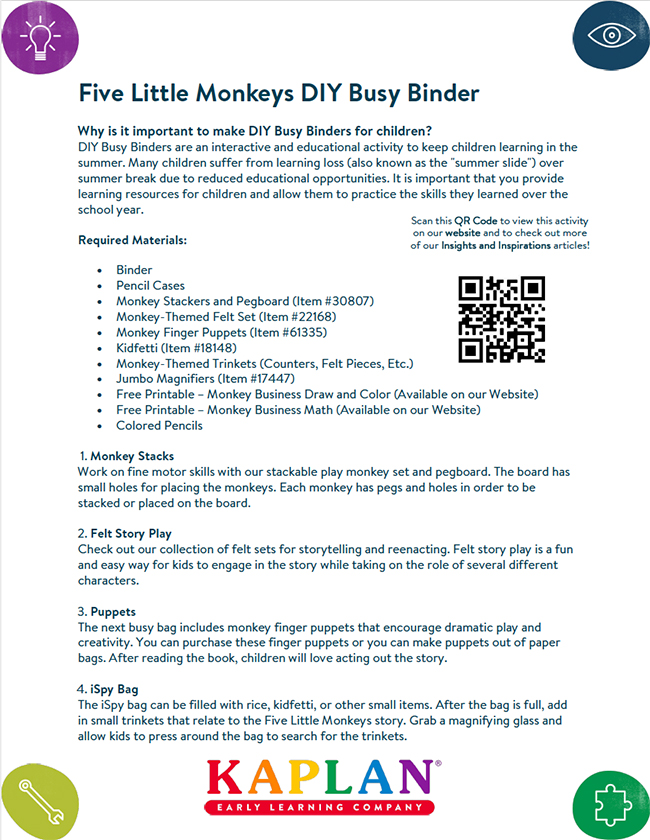 Required Materials:
Binder
Pencil Cases
Monkey-Themed Trinkets (Counters, Felt Pieces, Etc.)
1
Monkey Stacks
Work on fine motor skills with our stackable play monkey set and pegboard. The board has small holes for placing the monkeys. Each monkey has pegs and holes in order to be stacked or placed on the board.
2
Felt Story Play
Check out our collection of felt sets for storytelling and reenacting. Felt story play is a fun and easy way for kids to engage in the story while taking on the role of several different characters.
3
Puppets
The next busy bag includes monkey finger puppets that encourage dramatic play and creativity. You can purchase these finger puppets or you can make puppets out of paper bags. After reading the book, children will love acting out the story.
4
iSpy Bag
The iSpy bag can be filled with rice, kidfetti, or other small items. After the bag is full, add in small trinkets that relate to the Five Little Monkeys story. Grab a magnifying glass and allow kids to press around the bag to search for the trinkets.
Expand children's learning with two free printables for math and drawing to place in your DIY Busy Binder. Normal paper, word searches, or literacy can also be featured in your travel kit. Use a pencil pouch to store colored pencils and crayons. For additional tips on keeping children engaged this summer, be sure to browse our list of summer learning materials and activity ideas.