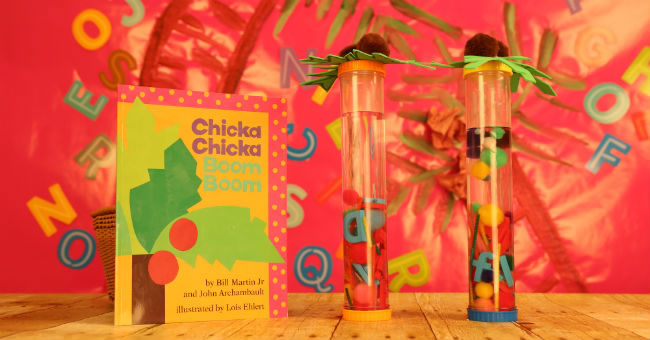 A-B-C let's create a sensory tube tree! Inspired by Chicka Chicka Boom Boom, this creative sensory activity features mess-free DIY sensory bottles to provide engaging hands-on experiences for children ages four and up. Opportunities for high-quality learning experiences via sensory activities are important because they support various learning styles as children naturally craft, play, and explore. Teachers can include the Chicka Chicka Boom Boom Sensory Tubes Activity in the classroom to introduce early literacy and science concepts while encouraging imagination and investigation through sensory integration.
What Is a Sensory Bottle?
Sensory bottles are containers, such as bottles or science sensory tubes, that are filled with various objects and materials to provide children with safe and mess-free opportunities to explore new items. As children participate in sensory activities, they build cognitive and language development as well as skills to support problem solving and critical thinking. For example, children are challenged to problem solve and think critically as they are prompted to use the magnetic wands to move the AlphaMagnets and chenille stems to the top of the Chicka Chicka Boom Boom sensory tubes.
The sensory bottles can become any lesson you desire and can be adapted according to concept or skill. Pick explorations that meet the unique needs of the children in your care. Are you looking for a safe way to investigate small bugs or insects, or are you interested in teaching magnetic properties? Children will find items in the bottles, watch how the water flows, or even start a discussion with you about what they are seeing and experiencing. How do you make sensory bottles? Check out the video and instructions below!
Download our FREE printable below!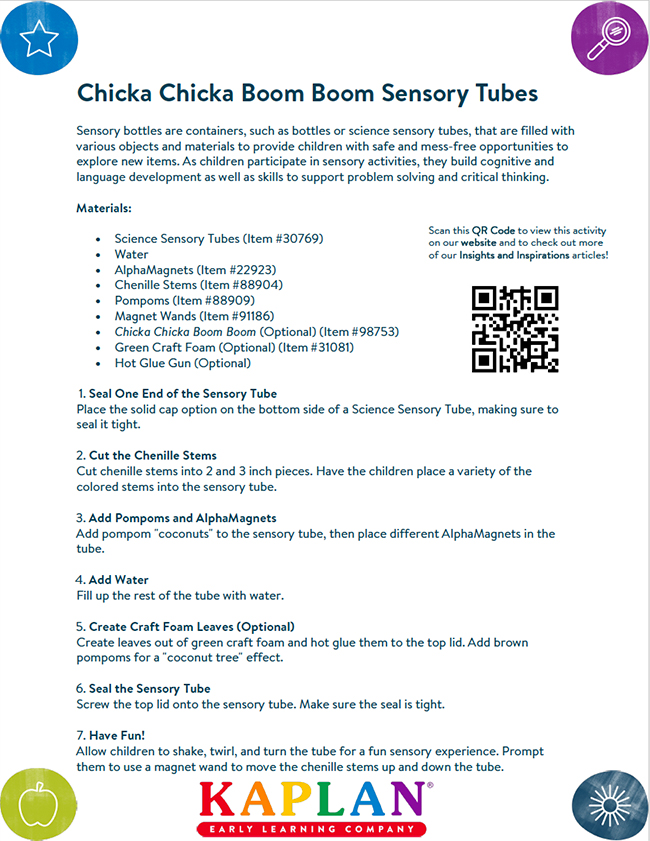 Required Materials:
Optional Materials:
1
Seal One End of the Sensory Tube
Place the solid cap option on the bottom side of a Science Sensory Tube, making sure to seal it tight.
2
Cut the Chenille Stems
Cut chenille stems into 2 and 3 inch pieces. Have the children place a variety of the colored stems into the sensory tube.
3
Add Pompoms and AlphaMagnets
Add pompom "coconuts" to the sensory tube, and then place a variety of AlphaMagnets inside the tube.
4
Add Water
Fill up the rest of the tube with water.
5
Create Craft Foam Leaves (Optional)
Create leaves out of green craft foam and hot glue them to the top lid. Add brown pompoms for a "coconut tree" effect.
6
Seal the Sensory Tube
Screw the top lid onto the sensory tube. Make sure the seal is tight.
7
Have Fun!
Allow children to shake, twirl, and turn the tube for a fun sensory experience. Prompt them to use a magnet wand to move the chenille stems up and down the tube.
Include the Chicka Chicka Boom Boom Sensory Tubes activity in your classroom to provide creative opportunities for multisensory experiences.
Be sure to browse our list of sensory-related products, resources, and professional development.