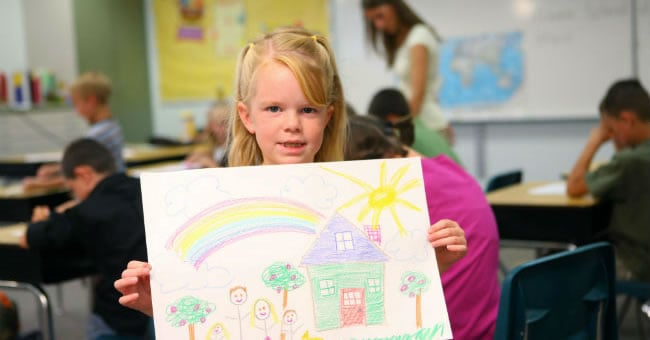 Children want to know the work they do is valued, so a place to display, share, and store children's work is an important element to include in your classroom. Having this space in the classroom also gives you an opportunity to share students' work with parents and other visitors to the classroom that are curious about what your students have accomplished. After searching through Pinterest for some design ideas, here is our list of five unique ways you can display and appreciate children's work in your classroom:
1. Masterpiece Wall
A masterpiece wall is a great way to showcase students' work throughout the school year. Whether it be a classroom activity, a holiday activity, or a simple art activity, students will be able to display their amazing accomplishments for the entire school to see. We love the quote included at the bottom of this design! Be sure to pick a quote or saying that best suits your group of students to include on your masterpiece wall.
2. Colorful Corner
Turn one of the corners in your classroom into a vibrant Colorful Corner to display children's artwork and/or school work! Decorate a banner to put above the color corner that compliments the wonderful work that your students made. Students will be proud to have their work featured in this eye-catching display, and parents will be sure to notice it on their next visit to the classroom.
3. Bravo Board
Recognize students' work by displaying it on this nifty bravo board. The clips make it easy to swap out students' work throughout the year. You can easily put your own design twist into the space or have your students help decorate it!
4. Mini Cork Boards
Short on space? Check out this mini cork board display that you can put on your classroom cabinets! You can choose the scrapbook paper you want to put on the mini cork boards for a customized display space. This mini cork board is a great way to applaud students writing or art work.
5. Personalized, Repurposed Clipboards
Have a bunch of old clipboards lying around? Know where you can get a good deal on some? These personalized and repurposed clipboards provide an organized way for you to display students' work. Simply paint the clipboards, and print out name labels to cover up the clips!