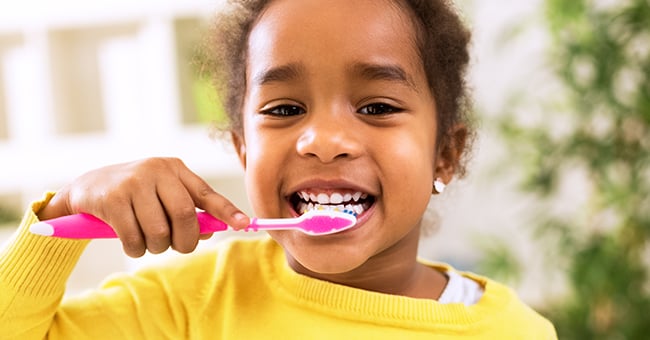 It's never too early to start practicing healthy habits with children and oral health is no exception! Even the tiniest teeth can experience tooth decay and cavities. These simple and easy Dental Hygiene Tips for Kids are perfect for teaching children the importance of keeping their teeth healthy while they develop and grow.
Eat Tooth-Friendly Foods
Serving healthy meals and snacks to children is an easy way to support dental health while also promoting healthy eating habits at home or at school. Nutritious foods like fruits, vegetables, whole-grains, meat, fish, eggs, and beans are much better for teeth than cookies, candy, and other sugary snacks. You can make eating healthy foods fun for children using several methods such as involving them in buying, growing, or preparing your own food or giving your child a list of healthy snacks and allowing them to choose their own from the grocery store.
Brush & Floss Daily
While brushing and flossing your teeth may seem like an obvious part of maintaining healthy smiles, some children may not be brushing their teeth long enough or potentially brushing in a way that can damage their gums. Caretakers should help their children brush their teeth twice a day, making it an important part of their routine in the morning and before bedtime.
Remember, younger children might want to brush their own teeth but, until they refine their fine motor skills, a caretaker's help is still needed. Grownups should brush children's teeth, or observe them brushing their teeth and help when needed until they are about 7 or 8-years-old. They should also model good brushing and flossing habits, showing children that they also brush twice a day—for about 2 to 3 minutes—and floss once a day for healthy and happy smiles!
Drink More Water!
Encouraging children to drink more water is always good for their health, but did you know it's good for their teeth, too? Most families have tap water with fluoride—a safe,cavity-fighting ingredient— added to it. Sipping fluoridated water throughout the day makes it hard for the bacteria in your mouth to make acid that could damage your teeth, it also helps rebuild your tooth enamel, making your teeth stronger. Drinking more water every day also helps keep your mouth clean, washing away any sugary snacks, drinks, and food particles that bacteria look for. Drinking water is a simple step grownups and children alike can take towards keeping their smiles cavity-free!
Don't Forget To Visit Your Dentist
Tips for good dental hygiene are easy to find, but putting them into practice with children is a little harder! However, making routine trips to the dentist into an experience that children can look forward to instead of fear, is a great way to keep children invested in their dental health for years to come.
Going to the dentist is a necessary step in maintaining healthy teeth and happy smiles. Introduce your child to their dentist early on so they see dentist visits as a normal part of life. You can also prepare children for visiting the dentist by reading children's books about dentist visits and having open conversations on what to expect at the dentist such as how they're a community helper whose job is to keep our teeth healthy and strong!
Explore more tips for healthy dental hygiene habits with these oral health resources from the National Head Start Early Childhood Learning and Knowledge Center, found here.