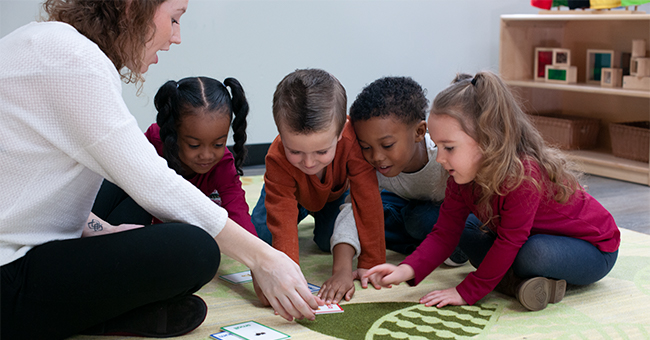 In the fourth installment of Dr. Tonia Durden's newest series Dear CRT, she provides a practical example of applying a culturally relevant lens to all lessons in the classroom. Explore the rest of her series here.
Dear CRT,
How long have you been in early childhood education? In those years, consider how many professional development trainings or courses you've taken to learn more about young children's learning and development. What were the topic areas? Was one of the areas approaches to learning (ATL) or developmentally appropriate practice (DAP)?
I'm 99.9% confident that you, culturally relevant teacher, have engaged in multiple sessions in which the trainer or instructor out of allegiance to our field used these terms (even if the topic was on potty training). I have another important question for you. In these trainings, did these experts also discuss the cultural or linguistic context of ATL or DAP?
Let's take a moment to explore it for ourselves. Read the scenario below:
Target Group: Infants and Toddlers
Topic/Domain: Creativity
Standard: Connect toddlers' imaginary play to their favorite books to connect real-life experiences with those in books.
Learning Experience: The toddlers in Ms. Jennie's toddler classroom love the Little Blue Truck books. They ask her to read them several times a day. She finds an old toy truck at the thrift shop and paints it bright blue. The children fill the truck with farm animals like in the book, saying "moo, neigh, and quack quack" as they add new passengers.
In the scenario above the standard explicitly asks to focus on creativity, imaginary play, and to connect to real life experiences. Take a moment to consider the children you teach. How could you make this experience more culturally meaningful? Ms. Jennie begins with a book that the children enjoys reading—fantastic, but what are the children's cultural and linguistic references is she drawing upon?
How can she bring in the sights, sounds and experiences of children's families and communities into the lesson? What are the trucks or cars the children are familiar with seeing at home or in the community? What animals and sounds are they familiar with and see often? How about the languages at home and in the community? How could she integrate children's home language throughout this lesson (verbally and in written form)? These are all examples of ways to truly make a real-life experience (AKA culturally relevant) and connection to books in a developmentally appropriate way.
I encourage you to put on your culturally relevant lens when planning and implementing all lessons to ensure that it starts with the interest, culture and language of the children you teach!
Stay tuned for the next blog in which we will explore anti-racism and anti-bias in early childhood education.
Onward and Upward,
Tonia Durden
About the Author
Tonia Durden, PhD, is a clinical associate professor of early childhood and elementary education and is a program coordinator at the Georgia State University College of Education and Human Development. She is also a co-author of the book Don't Look Away: Embracing Anti-Bias Classrooms.
Explore this Series
Dear CRT: Creating Culturally Relevant Classroom Environments
Dear CRT: Responsive Interactions
Dear CRT: Guiding and Nurturing Children
Dear CRT: How to Be Anti-Racist & Anti-Bias