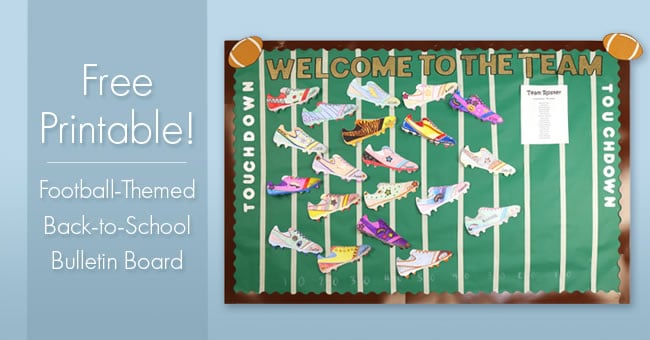 Engage with your students on the first day of school with an interactive bulletin board and door design that will have children excited about being back in the classroom. Your first decorations of the year are an opportunity to demonstrate the fundamentals of your classroom and make a lasting first impression on both students and parents. Our football-themed bulletin board and door emphasize the importance of teamwork and working together throughout the year. Introductions and back-to-school jitters can make returning to school a stressful time for students. By encouraging children to come up with their own design and contribute to the bulletin board, you help them feel as if they are truly a part of your team and get them excited for the upcoming year.
Why Is It Important to Teach Young Children About Teamwork?
Teamwork is an important skill that students should learn at an early age and will benefit them throughout life. Encouraging teamwork teaches children the relevance of effective communication, listening, and combining skillsets. Teamwork will be used outside of school in sports, family life, and jobs. If children see each team member has different strengths and weaknesses, it will help them to understand each person is unique in their own special way. Overall, the practice of teamwork will teach acceptance, patience, and social skills among young, developing children.
Download our FREE printable below!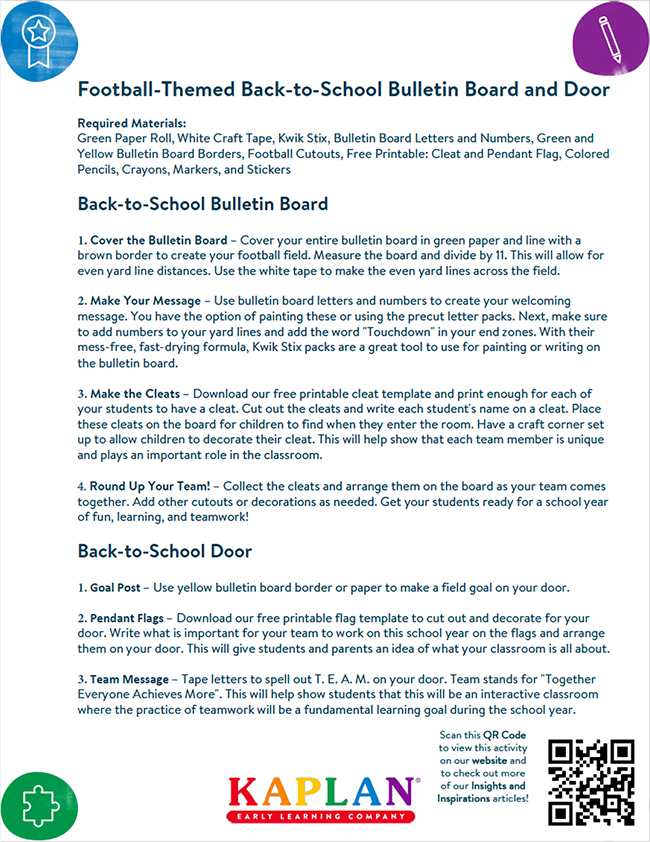 Required Materials:
Bulletin Board Letters and Numbers
Green and Yellow Bulletin Board Borders
Football Cutouts
Stickers
1
Back-to-School Bulletin Board
Cover the Bulletin Board – Cover your entire bulletin board in green paper and line with a brown border to create your football field. Measure the board and divide by 11. This will allow for even yard line distances. Use the white tape to make the even yard lines across the field.
Make Your Message – Use bulletin board letters and numbers to create your welcoming message. You have the option of painting these or using the precut letter packs. Next, make sure to add numbers to your yard lines and add the word "Touchdown" in your end zones. With their mess-free, fast-drying formula, Kwik Stix packs are a great tool to use for painting or writing on the bulletin board.
Make the Cleats – Download our free printable cleat template and print enough for each of your students to have a cleat. Cut out the cleats and write each student's name on a cleat. Place these cleats on the board for children to find when they enter the room. Have a craft corner set up to allow children to decorate their cleat. This will help show that each team member is unique and plays an important role in the classroom.
Round Up Your Team! – Collect the cleats and arrange them on the board as your team comes together. Add other cutouts or decorations as needed. Get your students ready for a school year of fun, learning, and teamwork!
2
Back-to-School Door
Make the Goal Post – Use yellow bulletin board border or paper to make a field goal on your door.
Pendant Flags – Download our free printable flag template to cut out and decorate for your door. Write what is important for your team to work on this school year on the flags and arrange them on your door. This will give students and parents an idea of what your classroom is all about.
Team Message – Tape letters to spell out T. E. A. M. on your door. Team stands for "Together Everyone Achieves More". This will help show students that this will be an interactive classroom where the practice of teamwork will be a fundamental learning goal during the school year.