Whether you are building a whole new preschool or school-age playground, or upgrading an existing playground at an early learning center, finding the right vendor is critical for not only saving time and money, but for ensuring that you correctly meet local and national licensing standards. Failure to do so could put your center's license or quality rating in jeopardy.
Some vendors have field sales representatives who can help customers through every step of the process: budgeting, planning, design, licensing, and installation. This option is ideal for customers who want the full-service experience: a partner who will handle the many details, scheduling, removal of existing structures, and installation of new structures and surfacing.
Some of the top vendors with the sales-rep model besides Kaplan Early Learning are Play & Park Structures, and Playworld. Most of these have national coverage and should be familiar with rules and regulations in your state.

When choosing the right vendor, be sure to look for those with experience in developmentally appropriate learning materials. That way, the vendor can be sure to recommend options that meet the ages and stages in your center.

For decades, Kaplan has been designing and building custom playgrounds for customers who want to extend their quality learning environments outdoors. Long the provider of award-winning early childhood classroom materials, we offer the full range of playground service options for schools and centers, depending on their needs.
What factors should I be considering to determine if I am ready to purchase a playground?
Customers should ask themselves 4 key questions before they decide on a new playground vendor. These questions can come in handy when collecting quotes from vendors, and also before starting with an existing vendor.
What ages will be using this playground?
Age makes all the difference, and will drastically affect the cost and scope of a project. A reputable vendor will know the developmentally appropriate materials for each age group, from infants on the move to toddlers (ages 6-23 months), preschoolers (ages 2-5 years), and school-agers (ages 5-12 years).

For the youngest children, ages 6-23 months, the playground should help them develop gross motor skills and reinforce concepts including shapes and colors. Because children in this age group are just learning basic developmental skills, the equipment should be easy for them to touch or grasp when needed. The play area should also have open spaces for children to crawl, stand, walk, and explore. Kaplan offers infant & toddler playground items that include slides, playhouses, manipulative panels and crawl-through tubes that are easily accessible for the littlest learners.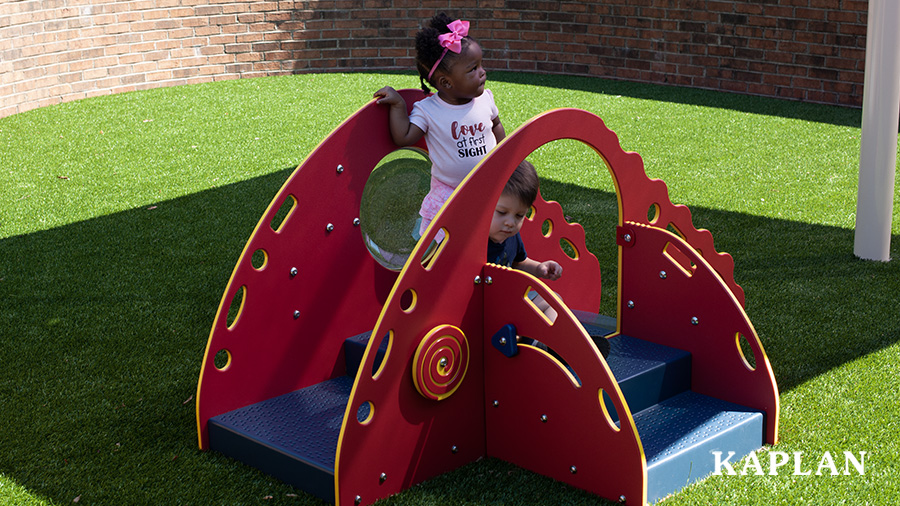 For ages 2-5 years, stationary balance activities and climbers are great additions in a playground. We do not recommend horizontal ladders and sliding poles for this age group due to the upper body strength they require. However, slides and swings are popular, although swings should be located on the periphery of the play area to prevent others from being hit.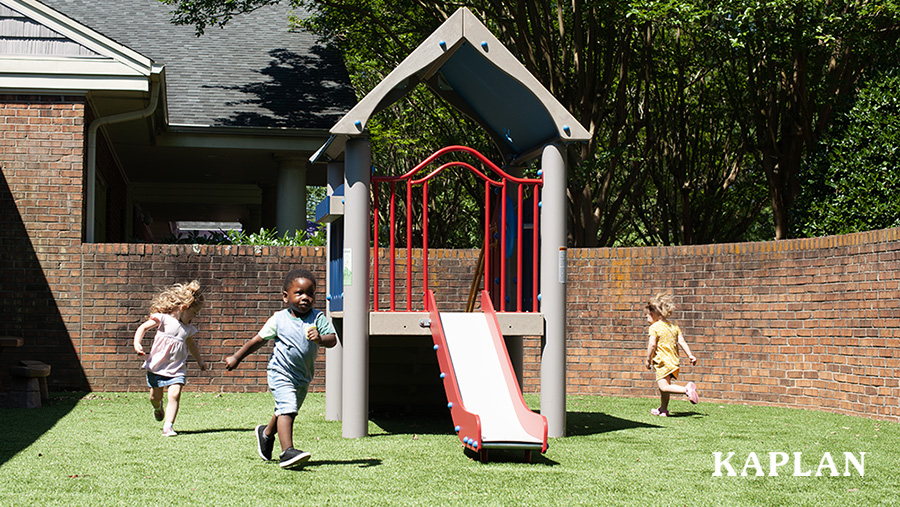 Children a bit older - 5 to 12 years - will enjoy freestanding climbers and open space for running. Children in this age group enjoy moving play equipment, but these should be installed at the edges of the play area for safety and better traffic flow.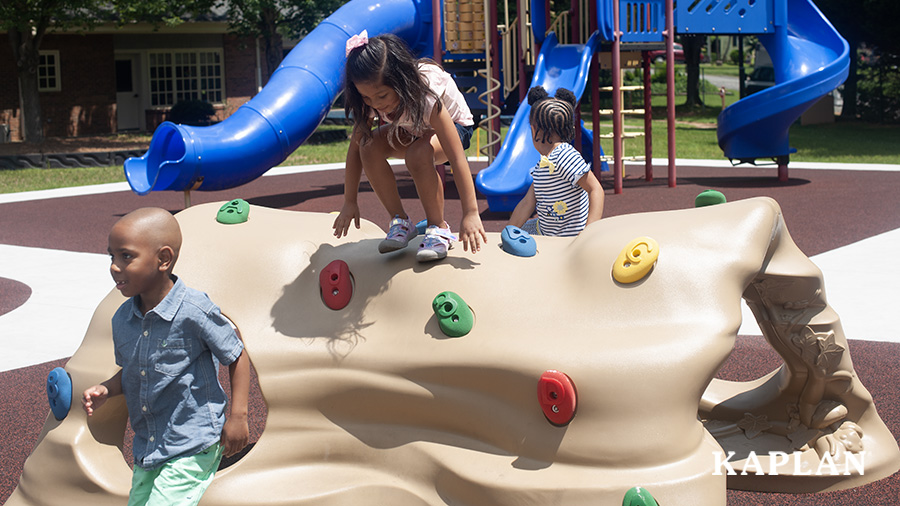 What are my state licensing requirements?
Each state has unique requirements when it comes to licensed childcare centers. All of Kaplan's playgrounds meet national standards from the Consumer Product Safety Commission and ASTM. These standards ensure all of the equipment we sell has gone through rigorous testing for durability and safety.

In addition to national standards, educators should work with their state licensing agency to understand the guidelines for an outdoor playground.

Some states are more stringent than others with their rules, differing on spacing, surfacing, shading and other regulated elements. Save time before purchasing a play structure by connecting with your local licensing office to determine what you'll need from your playground vendor, or connect with a Kaplan rep who can walk you through this process.
What maintenance will be required for my new playground?
The life expectancy of a playground installation depends on many factors: materials used, environment, and quality.

The more affordable, plastic play structures usually last 3-5 years, depending on the environment and how much it's used (extreme weather can shorten a structure's lifespan). As you move up in quality, the structures last longer - at least 10 years. A monthly maintenance checklist from the structure's manufacturer will be included with your purchase when working with a reputable vendor, which gives direction to the childcare center's facilities or maintenance team. The maintenance checklist, which includes things like tightening screws and bolts, is to maintain the safety and integrity of the structure.

If you invest in premium surfacing, the product is essentially maintenance-free: just sweep or blow off leaves as needed.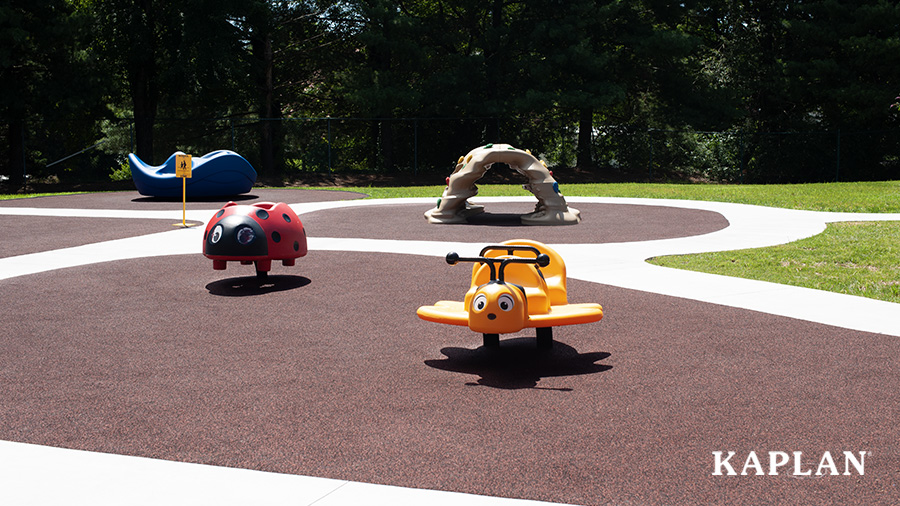 What playground warranties are available for a new project?
Playground warranties come in two buckets: labor/installation; and equipment. At Kaplan, we offer a 1-year warranty on labor and installation. That means we will repair or replace any defects that were the result of our installation.

For the equipment, that depends on each manufacturer. We recommend contacting the manufacturer directly, or asking your local sales representative for help.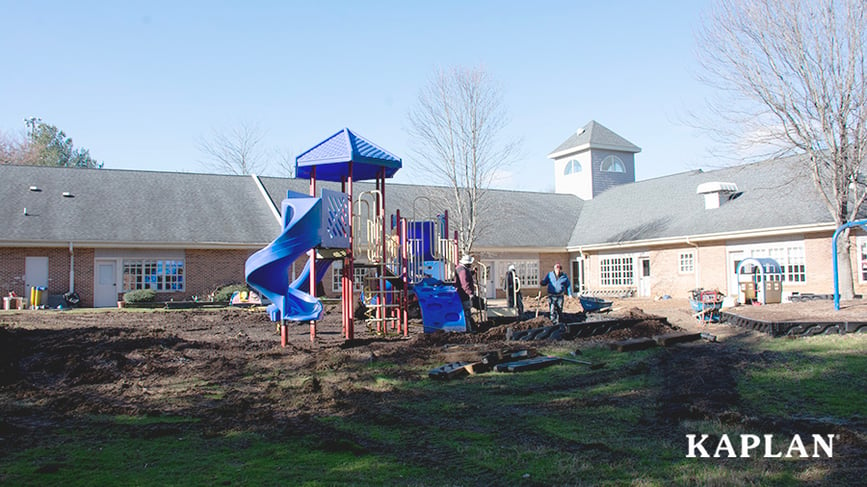 Outdoor play is an important part of young children's growth and development. More than just getting out the wiggles, playground time is when children process the skills they are learning during instructional time. Top playground vendors know this, and will work with you to develop a play environment that maximizes your outdoor space in a way that is appropriate for the ages and developmental stages of children in your care.

Whether you choose a DIY approach, or a full-service partner for your playground needs, be sure to clearly understand the ages and developmental needs of the children who will use the space, the licensing standards you must meet, the maintenance required, and the warranties available.

Need more tips? Visit our Design Process resource page for more information.