An early childhood classroom can be messy and chaotic, even on a good day.

During center rotations, block bins are often flipped upside down and emptied as children search for the one block that will complete their skyscraper build. When it is time to clean up, the shelves of the art center become a jumble of paper, glue sticks with no lid, and broken crayons. While you cannot completely eliminate the mess and chaos of an early childhood classroom, there are ways to minimize it.

The first step is to get organized!

An organized classroom is inspiring, motivating, and has a lasting effect on young children and their education. It provides opportunities for children to engage in cooperative play and improve their cognitive development. It allows children to foster a sense of independence and security. It helps children regulate their emotions, reducing challenging behaviors.

And with less clutter, the classroom atmosphere feels warm and inviting.

When you think about an organized classroom, you probably imagine shelving units full of plastic bins, totes, and baskets. These containers offer a great way to store classroom materials, but they also serve a greater purpose – to attract children to their contents.

Dr. Sandra Duncan inspired this new way of thinking about classroom organization, and she shares this approach in her book, Rethinking the Classroom Landscape: Creating Environments that Connect Young Children, Families, and Communities. Dr. Duncan has more than 45 years of experience in early childhood education. She brings her theory and best practices to early childhood classrooms across the U.S. by partnering with Kaplan to create the Sense of Place product line.

This article will share more insight into Dr. Sandra Duncan's approach to organizing an early childhood classroom and seven Kaplan organization options to make your classroom feel tidy, warm, and welcoming.

What Is the Purpose Of Classroom Containers?
Classroom containers do more than store items and hold materials, they should capture attention and attract children to the contents of the container. When children are curious about an object, they want to explore it and learn how it operates. Incorporating containers that draw children to their contents enhances child development through exploration and play.
What Makes a Great Container for Your Preschool Classroom?
When choosing containers for your early childhood classroom, look for materials that foster a connection to the real world. The plastic bins you find in most early childhood classrooms are visually uninspiring and make it difficult for children to see their contents. When you are choosing containers for your early childhood classroom, look for the following:


Low-sided containers that make it easy for children to see what is inside the container without lifting the container, dumping its contents, or needing to peer over the edge
Authentic materials that transform the classroom environment into an aesthetically warm and inviting space
Containers that are functional and easy for children to transport from the shelving unit to the floor and back again
Dual-purpose containers that hold an activity or experience you want children to partake in (like a weaving activity or tic-tac-toe game)
Child-created containers that make children feel a sense of pride over creating something that other children will use each day
7 Kaplan Container Options for Your Early Childhood Classroom
The key to an organized early childhood classroom is choosing containers that meet the needs of young children and the items you want your container to hold. Containers that help with classroom organization include baskets, trays, storage units, bowls, plates, wooden discs, etc. The more durable your classroom containers, the longer they will last against rigorous play. A few Kaplan containers that will make a great addition to your early childhood classroom are:
Washable Wicker Baskets
The Washable Wicker Baskets come in a variety of fun shapes and sizes, including a turtle, elephant, and starfish. The low-sided options can hold blocks, small manipulatives, and science materials such as shells and stones. When placed on the floor, the larger baskets are the perfect height to store stuffed animals or dress-up clothes. The natural tones and authentic materials add warmth and texture to your classroom spaces. You can clean the rattan material of the Washable Wicker Baskets using mild soap and warm water.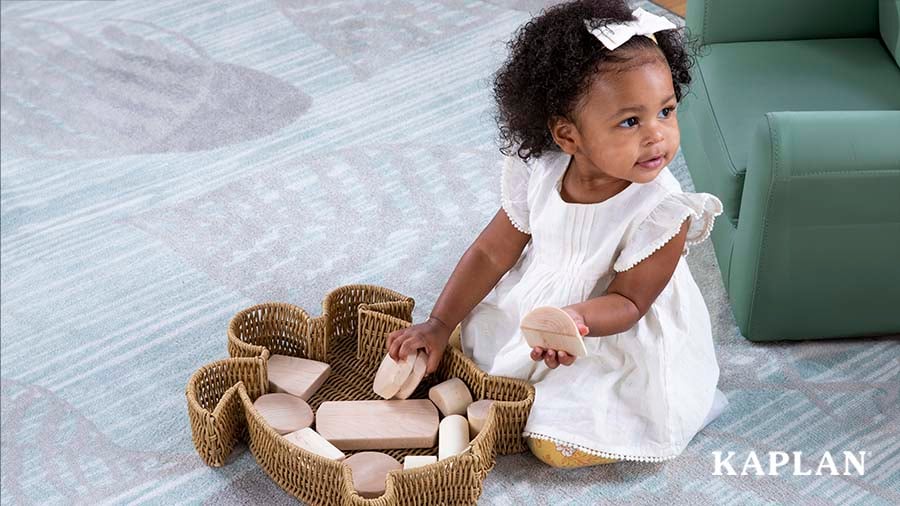 Sense of Place Woven Baskets
Woven from palm leaves, the Sense of Place Woven Baskets feature hemp-rope handles that make it easy for children to tote items around the classroom as they learn through play. The earthy tones of these baskets add nature-inspired aesthetics plus organization to your block and dramatic play centers. If you want to move your circle time activities outdoors, these totes make transporting books, blankets, and other items easy.
Rectangle Nesting Baskets
Another woven basket option, the Rectangle Nesting Basket, features woven handles that allow children to transport materials around the classroom. The low sides make this a great container to organize small manipulatives and art supplies. Nesting baskets like these can also be a companion for educational activities that involve sorting by size, shape, or color. Give each basket a label, such as small, medium, or large. Have children place manipulatives in the basket that meet those descriptions.
Loose Parts Organic Wooden Trays
The Loose Parts Organic Wooden Trays provide a unique and fun way to store and organize loose parts in your classroom. Made with sustainable, solid wood, each loose parts tray has compartments of different shapes and sizes. Children can use these trays to improve their fine motor skills, explore natural objects, and gather supplies for classroom art projects.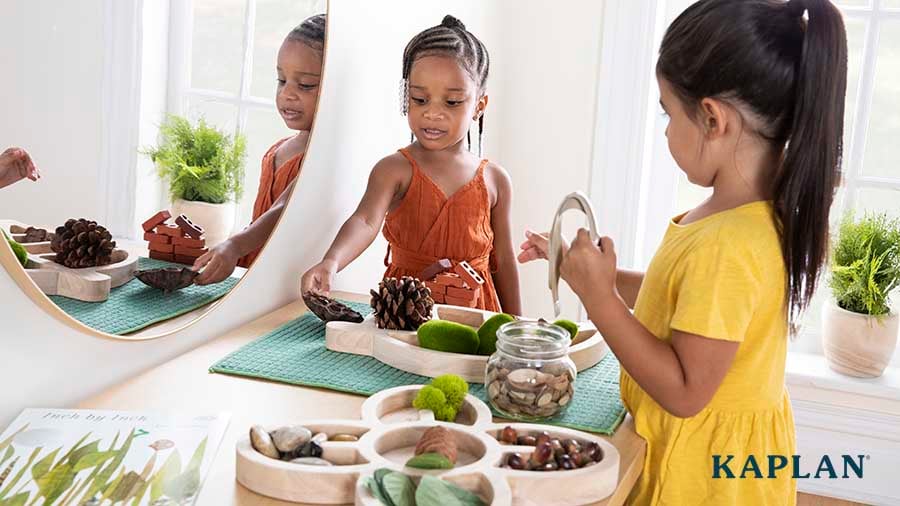 Sense of Place Woven Mirror Trays
Using nature-inspired materials, the Sense of Place Woven Mirror Trays support exploration and cooperative play. Each tray includes a removable acrylic mirror that is shatter-proof and safe to use around young children. The mirrored bottom allows children to explore objects from all angles. You can use these trays to hold soft materials such as feathers, pinecones, leaves, foam blocks, etc.
Outdoor Storage Baskets
The flat braid construction of the Outdoor Storage Baskets makes these baskets a durable and lightweight option for indoor or outdoor storage. They are perfect for storing sand and gardening toys, blocks, water table accessories, stuffed animals, and more. You can spot-clean these baskets using mild soap and warm water or send them to the dry cleaner for more prominent stains.
Soft Containers
Storage solutions like the Peek-A-Boo Basket feature a soft woven material resistant to fading, mildew, and staining. These containers can also hold materials for indoor and outdoor use, such as dramatic play kitchen utensils, books, blocks, etc. If these baskets get dirty, you can spot clean or send them to a professional dry cleaner.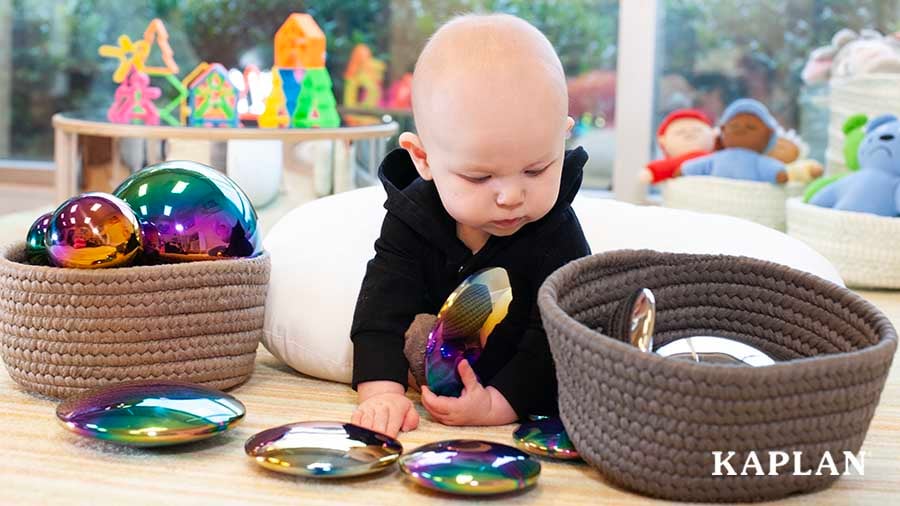 How Will You Organize Your Classroom?
Now that you have more insight into the purpose of classroom containers and the best options for your early childhood classroom, it is time to get organized! Whether you prefer bins, baskets, or trays, keeping your classroom organized creates a peaceful environment that positively impacts child development.

Scientific research confirms that peaceful environments foster young children's social, emotional, physical, and cognitive growth. Take organization one step further by using your containers and furnishings to create a heart-centered classroom environment. To understand the four elements of a heart-centered classroom, based on the expertise of Dr. Sandra Duncan and why they matter, read this article.