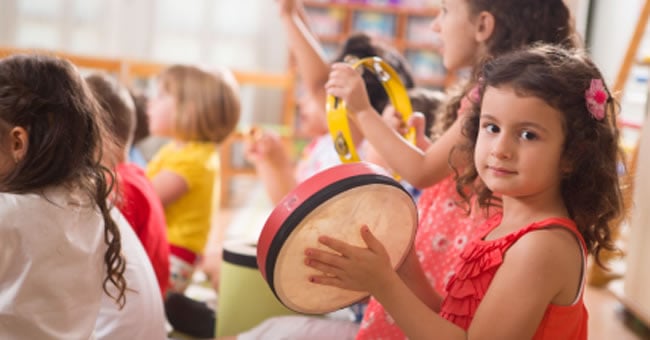 Children are natural movers, which is why they find it so hard to sit still. Using music and movement activities in your classroom can help children learn and grow, meet developmental milestones, and keep them active and healthy. In Shake, Rattle, and Roll: Rhythm Instruments and More for Active Learning, Abigail Flesch Connors, MEd, explains how rhythmic movement in response to music benefits children's development across the following domains:
Health and Physical Development – Moving to music serves as a wonderful aerobic activity for children. It gives them a chance to be active, maintain a healthy weight, keep bones and muscles strong, and work on developing their motor skills.
Social Development – Dancing and music play a huge role in cultures around the world, so it makes sense that they also play a large role in helping children connect with each other through a playful and fun social-bonding experience.
Emergent Literacy – Music and movement activities help children learn to interpret auditory signals, support auditory memory, and introduce new words to help children build their vocabulary.
Musical Concepts – Music and movement activities introduce children to musical concepts with a multisensory approach. Hearing the teacher discuss and demonstrate a musical concept, such as soft and loud, fast and slow, and legato and staccato, and then doing the movement activity themselves strengthens and reinforces children's learning.
Math – Teaching children to keep the beat of the music and showing them how the activity or their movements are in a pattern helps them learn basic concepts in both math and music.
Emotional Development – Music and movement activities give children opportunities to gain confidence, let off steam, relax, and be playful and silly.
Be sure to browse our Music and Movement resource books and visit our Music and Video section for a variety of instruments and materials you can utilize in the classroom.