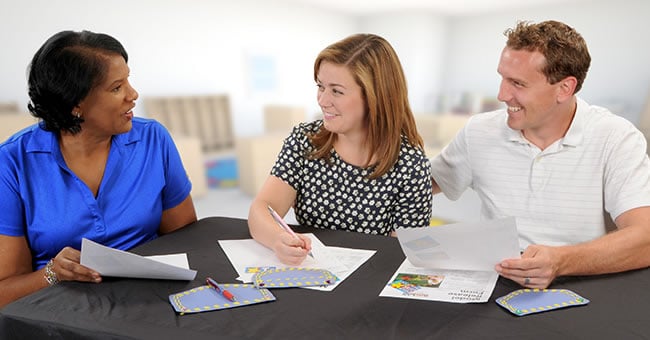 Family conferences are an important component of family engagement. From providing information on children's growth and development to addressing any concerns and/or questions, family conferences give you an opportunity to connect with children's families. They also give you an opportunity to listen to and learn about each family. "Teachers might have more knowledge in the areas of child development, academic settings, and requirements, but the family has unique knowledge of the child's experiences and skills," states Johnna Darragh Ernst, PhD, in her book The Welcoming Classroom. Both types of knowledge are required to truly support children in their development and learning.
Dr. Ernst also shares the following tips for conducting effective family conferences in The Welcoming Classroom:
Survey the family prior to the conference to determine the kinds of information they would like to learn and what they would like to share.
Include in your communication the information you plan on sharing.
Provide several dates and times to choose from for the conference.
Off-site locations might be more convenient for some families, so consider community locations as an alternative to on-site meetings.
Send reminders for the event.
If a translator is needed, have someone available.
Provide child care.
Be organized.
Have everything prepared in the family's preferred communication format.
Carefully gather information about the family's strengths, concerns, priorities, and resources.
Be mindful, and use your active listening skills.
Thoroughly address each question the family has.
Develop goals and an action plan together.
Determine a follow-up plan.
Allow adequate time between conferences in case the conferences run over.
Follow up with the family, addressing any questions they may have had.
Communicate about your shared goals and action plan.
Keep the lines of communication open.