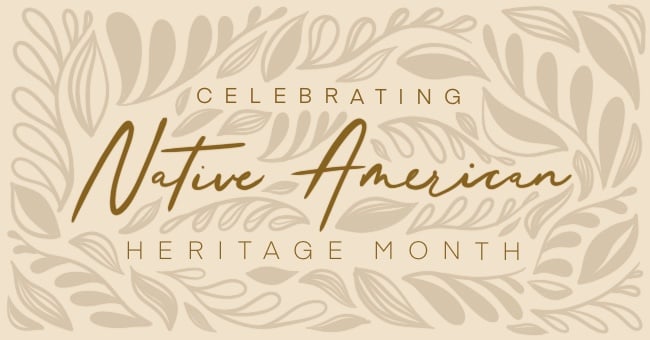 It's Native American Heritage Month!
Each year, beginning on November first, Native American Heritage Month is celebrated to honor the sacrifices, culture, and stories of Indigenous people who have contributed significantly to our country's history. Celebration through education is one of the easiest—and most fun—ways to deliver authentic lessons that teach children to value and appreciate diverse cultures and experiences.
Why is Celebrating Native American Heritage Month Important?
Addressing and embracing diversity and inclusivity in your classroom helps create a safe space where all children can learn and grow! Celebrating Native American Heritage Month with the children in your classroom—whether they are of Indigenous heritage or not—is the perfect chance to discuss diversity and encourage children to make meaningful connections with one another as a classroom community. It is also a good time to talk about the complicated history and relationship between Native Americans and the United States in an age-appropriate way. While it's not developmentally appropriate to go into great detail with young children about the historical violence and marginalization Native Americans have faced throughout history, and still face today, it is appropriate to talk about their history in the context of social-emotional conversations, story times, guest speakers, and so on.
Many teachers may be afraid of offending children and their families, causing them to ignore the diversity of their students and avoid addressing racial and cultural differences in the classroom. However, addressing and discussing racial and cultural differences encourages children to treat people who are different than them with kindness and reinforces their own self-love. Incorporating celebrations Native American Heritage Month into your classroom also instills within children the important lesson that their racial or cultural differences from their classmates should be celebrated and makes them the only one of them there is! When children see their traditions and cultures represented in the lessons they are learning and the classrooms experiences they are part of, they are being told they matter and their heritage matters, too.
How Can I Use This in My Lesson Plan?
Showcasing the rich cultures, traditions, and contributions of Native Americans and other Indigenous people during Native American Heritage Month is the perfect chance to bring children together through celebration.
Unlock new experiences, explore diverse cultures, and create an inclusive and welcoming classroom with these ideas for Celebrating Native American Heritage Month with children—P.S. these activities work year-round, too!
Head Outside
Create a heritage garden with your classroom community! Find a small area of land and plant staple crops found in many Native American communities like corn, beans, squash, sunflowers, sweet potatoes, and pumpkins. When you harvest your crops you can host a classroom celebration where you taste-test what you have grown. Extend learning and explore your heritage garden year-round by discussing plant life cycles, learning more about the seasons, and promoting an appreciation for the earth.
Explore Through Sound
Songs and music from different tribal nations are the perfect way to learn more about the rich cultures and traditions celebrated during Native American Heritage Month! Connecting with your local tribes is the best place to start to find appropriate music and dances to teach in your classroom. Remember that while some songs and dances are for celebration, others may be for sacred ceremonies and it is important to know the difference as well as the cultural protocol around those dances. This is why contacting your local tribe is an important part of bringing these traditions into your classroom!
Share Stories
If you have Native American or Indigenous students in your classroom, encourage them to share their favorite stories and family traditions. If your classroom allows guests, you can also invite their grownups and families to share objects and stories about their heritage with the class. If you're able to take children on field trips, extend this idea by reaching out to local Native American tribes in your community or visiting a museum or performance where Native American practices, dances, traditions, and more are being shared.
Literacy and Language Connections
Add books with Native American characters and traditions to your reading center! Read books like Fry Bread by Kevin Noble Maillard that talk about Native American families, traditions, and more with your students. Extend learning by encouraging children to act out or draw the stories they've heard, and share them with the class. Storytelling a strong oral tradition, is also a large part of Native American culture. If you have a Native American guest in your classroom, work together as a class to help your guest tell a traditional Native American story and encourage students to pass that story on to their friends and families.