Children are naturally curious about the world around them.

According to the book, Naturally Inclusive: Engaging Children of All Abilities Outdoors, the more exposure children have to nature, the more opportunities they have to explore and learn. Spending time in nature allows children to engage their senses, develop age-appropriate skills, and it supports their overall health and well-being.

The good news is that early childhood centers are embracing this knowledge and placing more emphasis on unstructured outdoor play as part of their structured day. Outdoor play areas can be an extension of the indoor classroom - providing a safe environment that plays a critical role in helping children learn through play.

As an early childhood professional, you want to create outdoor spaces that allow children to safely explore their curiosities while enriching their cognitive experiences through nature-based learning. One way to create outdoor spaces like this is to incorporate natural play materials and wooden furniture.

However, while shopping for furniture for your outdoor spaces, you may wonder if wooden furniture is your best option. How well will it hold up after constant exposure to the elements? Can it handle rough-and-tumble play? How long will it maintain a natural wood appearance before it starts aging?

We at Kaplan understand the importance of encouraging children to explore, learn, and connect with nature. We also know that when you buy outdoor furniture, you want to buy items that will last for years to come. This is why we, along with play space designer, Rusty Keeler, created the Nature to Play collection of wooden outdoor furniture.

Rusty has 30 years' worth of experience creating natural play spaces for communities, schools, and parks around the world. He is the author of multiple books on the topic of outdoor play, a keynote speaker, and a presenter at conferences and colleges. He wants the Nature to Play furniture collection to give children the opportunity to play freely, messes and all.

The Nature to Play collection was developed to meet the needs of any early childhood environment. With an eye toward child-centered design patterns and teacher-requested safety and durability standards, we used thermally modified wood by Thermory® to provide durable, natural-looking wood furniture. In this article, you will read about five features of the Nature to Play collection that make it a durable playground furniture option with natural appeal.
First things first, what is thermally modified wood?
Thermory® uses a process of heat and steam to treat wood boards so they can stand up to wind, rain, and rough usage. In addition to the heat and steam treatment, each wood board receives a coating of penetrating UV protective oil. Because of this process, the wood absorbs less moisture than untreated wood.

The thermal modification process treats the wood from the outside through to the core. That makes each board strong, less absorbent, and stable enough to hold up to elements such as rain, sun, and insects, without deteriorating. Unlike pressure-treated wood, this modification process does not involve toxic chemicals that are dangerous to children and the environment.

Here are five benefits of the Nature to Play collection that make it an excellent option for your playground:
1. The natural wood color is aesthetically pleasing
When creating a nature-inspired playground, you want furniture that complements the natural world, increasing the connections between the children's play space and their environments.

Natural elements invite creativity, nuture exploration, and have a positive effect on children's behavior. Building off the diverse beauty in nature, children will have more meaningful experiences, leading to richer learning. Like the hardwoods found in forests, The Nature to Play collection comes in a warm, brown hue that feels smooth and soft to the touch. Unlike the immovable metal and plastic structures that dominate most playgrounds.

Over time, the warm brown shade will naturally weather to gray, the same way all wood changes as it is exposed to the elements. We share more about this process and how to restore the natural wood color below.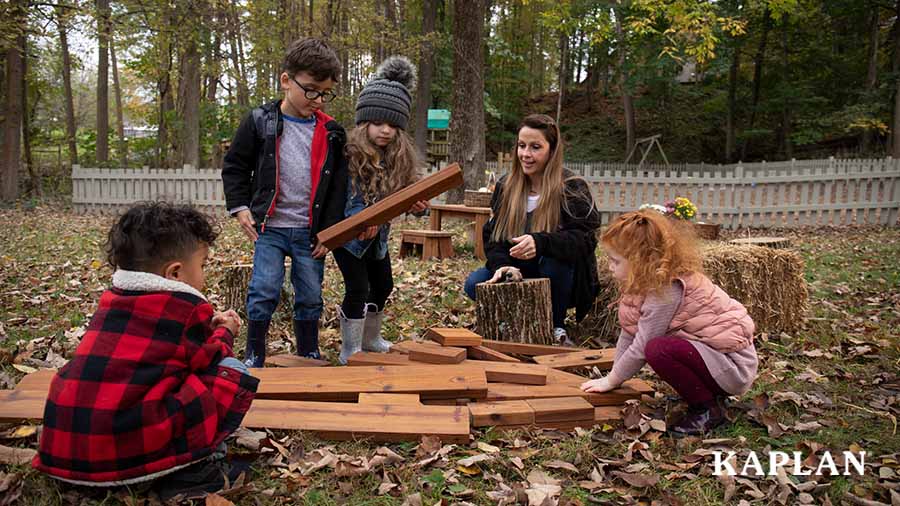 2. Nature to Play items can stand up to the elements
Heavy rain or water play will not cause your Nature to Play furniture to rot quickly. In fact, every board treated by Thermory® is rot-resistant for 20 to 25+ years. We also use UV-resistant plastics, and weather-resistant stainless steel hardware to construct the Nature to Play collection. The use of these materials prevents rust, corrosion, and breakage due to exposure to the elements.
3. Nature to Play items can handle rough-and-tumble play
To construct the Nature to Play collection, we use thick boards that offer stability for children at play. Children can move the pieces around, stand on them, jump over them, or cover them with mud, mulch, and leaves - all without damaging the products.
Children will delight in banging pots and pans on the mud kitchen as they create earthy meals for their friends. They can stomp around on the water tower while they learn to control the flow of water.

Splinters are a common concern when children are playing with natural wood materials. The wood we use to create the Nature to Play collection also goes through a milling process so that it is smooth before assembly. This prevents the furniture pieces from easily splintering, warping, or chipping. Smooth wooden surfaces cut down on accidental injuries like children bumping into sharp wood corners or getting a splinter after sliding along a bench with cracking wood.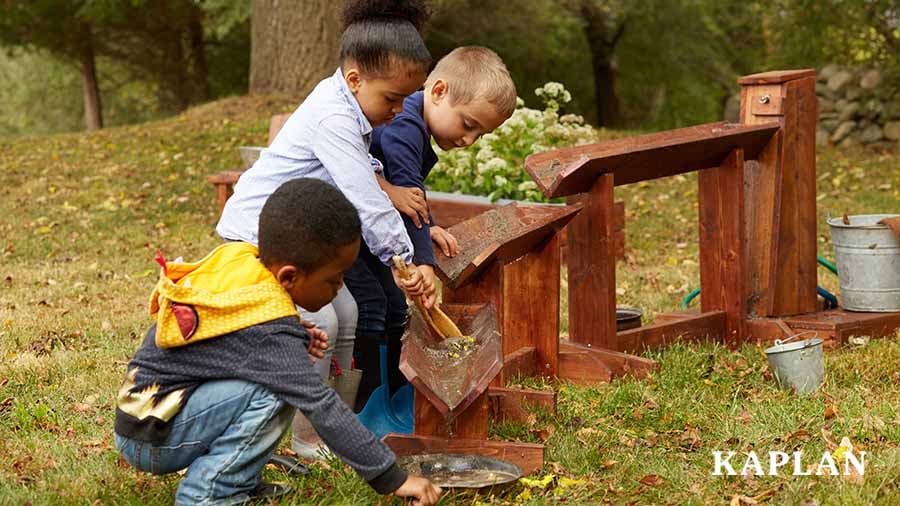 4. The wood treatment process does not require the use of toxic chemicals
Safety is a top priority when it comes to buying outdoor furniture for your playground. The Thermory® wood modification process uses a combination of heat and steam to treat each board. Thermory® also applies a natural oil coating to further protect the wood. This oil coating is safe for children and animals once dry.
5. Nature to Play furniture requires minimal upkeep to maintain its durability and coloration
A big concern for many of our customers is how much maintenance is required for outdoor wood furniture. Especially when they want it to stay in the best shape possible, for as long as possible. With proper care and minimal maintenance, your Nature to Play furniture can last for years to come.

The brown shade of the wood in the Nature to Play collection will naturally age and grey over time. This will ONLY affect the look of the wood, not its durability or strength. With consistent exposure to direct sunlight and daily moisture, you may notice the greying process happens sooner, rather than later.

To delay this natural aging process, we suggest you apply a second layer of UV protective oil within one year. If you like the look of grey, weathered wood, you can skip this step altogether. If at any time you want to restore the original color of your Nature to Play furniture, lightly sand the wood and apply teak oil to remove the silver coloration.

To clean your Nature to Play furniture, we suggest you stay away from bleach and harsh cleaners that could damage the finish of the wood. We do recommend cleaning with soap, like Dawn dish detergent, and water. If you need to scrub the wood to remove dirt, mud, and other debris, use a brush with soft bristles or a sponge.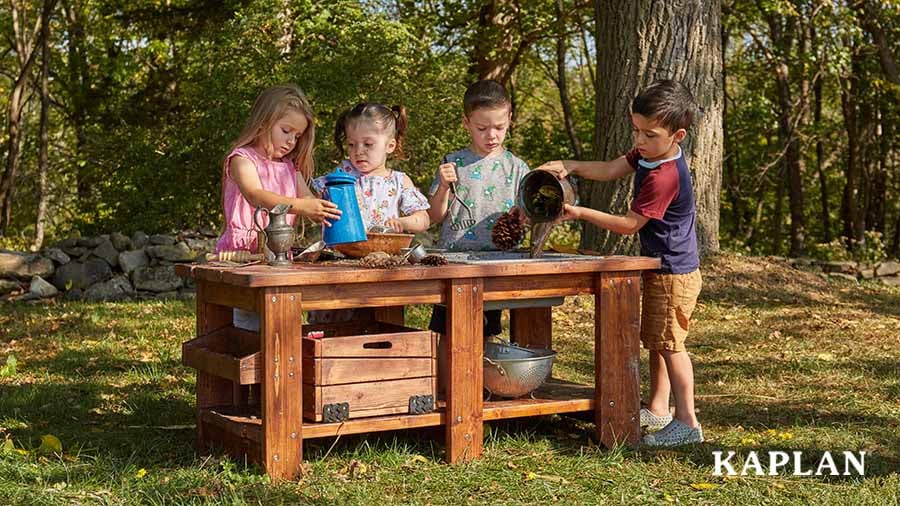 Want to learn more about the Nature to Play collection?
You now have a better understanding of what makes Nature to Play a durable, safe, weather-resistant wood option for your playground and outdoor learning spaces. Each product in the collection enhances outdoor play time, can stand up to the elements, contains no toxic chemicals, and is easy to maintain. Rusty Keeler, the designer of our Nature to Play furniture, created this line to give children ample opportunities to explore, learn, and grow with authentic, open-ended, and nature-aligned materials.

The Mud Kitchen allows children to express their creativity and spark conversations with their classmates. The Water Tower helps children learn about water flow and control. The tables and Adirondack chairs give you the option of moving your classroom lessons outdoors, which is a great way to incorporate nature-based learning in your early childhood center.

We want the process of purchasing outdoor wood furniture to be easy for you. If you are interested in purchasing items from the Nature to Play line for your playground, click here to view the entire inventory on our website. Each item in the Nature to Play line comes with a five-year warranty. To learn more about what we cover, or to ask questions about purchasing Nature to Play furnishings for your playground, connect with a member of our sales team today.