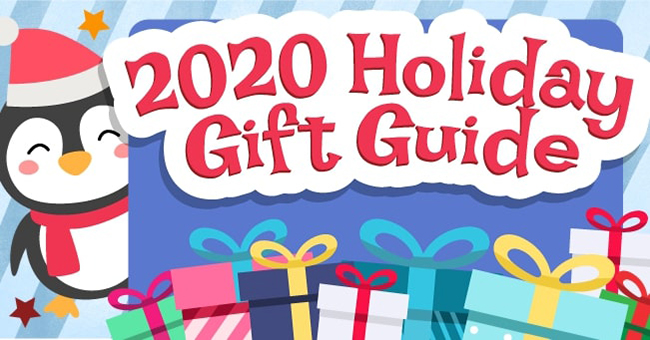 Get into the holiday spirit with Kaplan's 2020 Holiday Gift Guide! From dramatic play to STEM, our top gift picks are perfect for everyone on your list this holiday season. Inspire imaginations and engage young learners with these products that encourage curiosity, boost creativity, and support learning through play!
Check out our top toys for championing play below!
Dolls with Down Syndrome
Introduce new friends with Down syndrome to children and increase representation in their toy box this holiday season with Dolls with Down Syndrome. The perfect tool for creating inclusive play experiences and fostering social-emotional development, these dolls were crafted with dramatic and collaborative play in mind! Featuring a movable and anatomically correct head, legs, and arms, as well as clothing with buttons, slip-ons, and hook-and-loop fasteners, these dolls are ready to become your child's new favorite playtime companion.
Kaplan Magna-Tiles®
Fuse science, math, and creativity together for endless 3-D fun with our Kaplan Magna-Tiles® building sets! From a medieval castle to a bustling barnyard, these magnetic building sets are the perfect way to encourage early, hands-on STEM and STEAM explorations. Children's imaginations will come to life as they put their fine motor and problem-solving skills to use and build interactive 3-D structures with the detailed magnetic tiles printed with numbers, letters, and more, creating limitless building possibilities.
My First Workout® Kit
Staying indoors this holiday season? You can still have family fun while encouraging healthy habits with the My First Workout® Kit! Introduce children to the importance of lifelong exercise habits with this kit designed specifically for children between the ages of 5 and 10. From supporting children's personal relationships with wellness, both mental and physical, to improving their performance in school and promoting social-emotional development, the benefits of regular, child-friendly exercise make this kit the perfect tool for growing minds and bodies. Carefully designed by Certified Personal Trainer and My First Workout® founder Michelle Miller, this kit and accompanying progressive exercise program will provide hours of movement and fun for kids and their grownups too!
Lux Blox
Kick off a jolly holiday season with Lux Blox! This award winning STEM toy inspires play through building structures which curve, bend, move, and fold! Modeled after nature at the molecular level, Lux connects not through sticking or stacking like other building sets, but through linking pieces together. Each durable building block piece connects on all 4 sides allowing for more flexible builds to create toys where any part can move. The creative possibilities and STEM adventures are endless with this hands-on toy proudly made in the USA!
Hearts for Hearts Dolls
Celebrate a culture of courage and experience new adventures with the Hearts for Hearts Dolls! Sharing the diverse lives and stories of Rahel, Shola, Zelia, Nyesha, Consuelo, Lauryce, Dell, and Mosi—girls from all around the globe—the Hearts for Hearts Dolls are the perfect companions for children six years and up as they develop social-emotional and creative skills, and celebrate diversity through pretend play. Children will love exploring New York City with Nyesha, learning more about Afghani culture from Shola, and celebrating Native American heritage with Mosi. The dramatic play possibilities are endless with their new best friend!
Breathe with Me Barbie®
Join Barbie® and her puppy for a moment of mindfulness and meditation this holiday season! Press Barbie's necklace and follow along as she leads your child through one of five guided meditations, teaching the importance of recognizing, understanding, and sharing your feelings. Children will love using the expressive emoji accessories to identify how they're feeling as they process their emotions alongside their new friend. The perfect tool for bringing mindfulness techniques into your daily routine, Breathe with Me Barbie® inspires children to take care of their growing minds and bodies through mindfulness and self-care.
Air Fort
Bring imagination and fun to new heights with the Air Fort! This unique spin on a play tent requires only an outlet and a classic box fan to bring an engaging new learning environment to children ages three and up. Just secure the mouth of the tent to the fan using the included tabs, turn the fan on, and watch as your tent comes to life in 30 seconds. Children will love playing in their own special space for endless fun and learning opportunities. Perfect for parties, sleepovers, and dramatic play, the Air Fort comes in an easy-to-carry and compact travel bag so the fun goes wherever you do. Available in multiple colors from ocean blue to pretty in pink, there's an Air Fort for everyone to enjoy . . . even grownups!
Farm Hoppers®
Hop into the holidays with the Farm Hopper®! Perfect for the holiday season, the Farm Hopper® helps children develop balance, coordination, motor skills, and core muscle strength as they bounce and play. Children will love these brightly colored inflatable toys as they dream up dramatic play explorations and discover new ways to use their imagination! Featuring soft grip-able ears, these bouncy animal friends are fit for indoor and outdoor use, safe for children ages 18 months and up, and made with BPA and Phthalate free plastic, making them perfect for your young adventurer's next play experience!
LEGO® Builds
The perfect toy for little hands and big imaginations our LEGO® building sets bring hands-on fun to any holiday celebration! These interactive and engaging brick sets foster early STEM explorations, problem-solving skills, and creativity. Children will love exploring their growing imaginations and bringing even their wildest creations to life from fantastical animals to teetering towers. Perfect for collaborative play, LEGO® bricks are fun for kids and grownups alike!
Warmies®
Stay warm and cozy during the holidays with the cute and cuddly Warmies®! Perfect for children of all ages, the plush Warmies® bring soothing comfort to little ones in need of a snuggle. Simply warm them up in the microwave and in just 60 seconds you'll have a warm, huggable friend scented with gentle lavender for extra relaxation. Ready to comfort at playtime or bedtime, the Warmies® bring love, warmth, and care to each new friend they make.